UPDATED: 4th July. So we have rounded up the best Balenciaga Le Cagole bag dupes from top high street stores, from just £40. Keep reading to find out more.
Oh Balenciaga, you've done it again. As if the Balenciaga mini city bag wasn't already breaking the internet, Balenciaga tapped into their archives and re-imagined the brand's popular Motor bag from the early 2000s.
Also, here are our Balenciaga Le Cagole Boots dupes our readers have been loving! Selling fast!
The selling point of these Cagole bags is the heavy Y2K-esque aesthetic, and how incredibly edgy yet effortless they look. The Balenciaga Le Cagole bags are available in various colours, the most bestselling colours being pink, black and white.
---
MUST SEE: We found ALL Balenciaga bag dupe alternatives, including the hourglass bag, Neo classic bag, and more from $20 just for you! ✨
---
However, the Balenciaga le Cagole bag retailed at £1,250 when it first came out, the le Cagole bag has become so popular and it's demand keeps rising. At the moment, they are currently priced at £1,450, a 16% increase since it first came out in July 2021.
It's no surprise that the Balenciaga le Cagole bag is loved by many, however, as it comes with such a hefty price tag that keeps rising, so we have picked out the best Balenciaga Le Cagole bag dupes for you to shop, which look just like the original, but for a fraction of the price.
Shop Balenciaga Le Cagole Bag Dupes
1.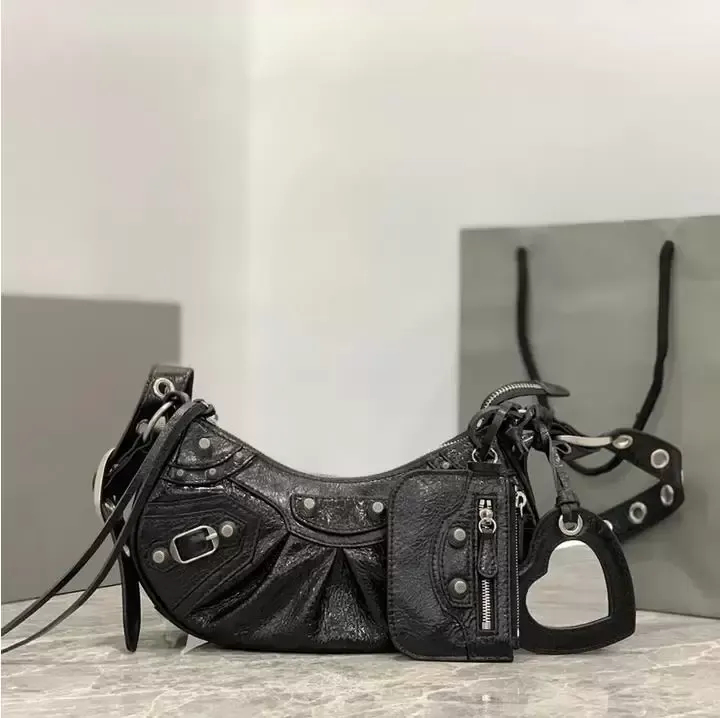 We are absolutely loving this high quality cagole bag from DHGate. With 5 stars feedback and positive image reviews, and 5 colours available. Doesn't come with Balenciaga logo.
---
2.
If you want the highest quality ever, including Balenciaga logo, dustbag and box, this is the bag for you. Over 1,000+ orders, including 5 stars positive image feedback. 20 colours & 2 sizes available.
---
3.
This best-seller on the high street is finally back in stock! This Balenciaga le cagole inspired bag by EGO is available in various colours. Over 10,000+ sold.
---
Sold out, enter your email to be notified when they come back in stock!
---
4.
We are absolutely loving this Balenciaga inspired le cagole dupe from H&M, the design is so similar. Selling VERY fast! 2 colours available.
---
5.
A bestseller on Aliexpress with over 400+ orders and 95% positive feedback. Available in 25 colours from red, yellow, pink, black, blue, etc. These colours are sure to compliment all of your summer looks! PS, I picked up the black bag with crystals for myself 😍
---
RELATED: Balenciaga Le Cagole Boots Dupes From £30
---
6.
If you say Balenciaga le cagole bag, most people automatically think of the pink colour. This bag is the ultimate classic style. Why not pair it with our Jaded London dupes? Unleash your Y2K girl aesthetic! 💓
Made from the same real leather as the Balenciaga bag. It has been ordered 60+ times, with 94.6% positive feedback. 7 colours available. Comes with Balenciaga logo.
---
How To Style Balenciaga Le Cagole bag
Perhaps, it's the weekend. You opt for a casual look: pair your bag with cycling shorts, a ribbed tank, and throw on a light oversized shirt and your favourite trainers. Sorted. 💕
Pictured above: EGO pink bag (£25), Reformation pink top (£91), Skims cycling shorts (£39), New Balance trainers (£80) and Lili Notan shirt.
---
7.
Add a pop of colour and spice up your life with this rich green Balenciaga dupe bag from H&M, perfect for winter, spring and even summer season. Your styling opportunities are endless!
---
8.
What screams Y2K more than this gorgeous bag from Mango? The heart shaped mirror makes the design quite similar to Balenciaga's.
---
9.
Also comes in black, which is versatile and will go with all your outfits.
---
10.
This black croc-effect bag is a true statement bag. Black is such a versatile colour, so it is sure to go with anything in your closet.
---
11.
How cute is this mini version of the Balenciaga le cagole dupe? For all your Coachella outfits this summer, you're welcome! 🛍️
---
---
12.
This white Balenciaga le cagole dupe is a classic. This style has been spotted on the likes of Kim Kardashian, and more. Style this with an all black outfit & some white boots!
---
13.
This fringed beauty is also available in a white. Style this with a leather jacket, some boots, how about our Prada Monolith Boots Dupes?! You're going to look badass! 🤍
---
14.
Add a pop of colour to your outfits with this rich green bag from EGO. We showed you how to style it below!
How To Style Balenciaga Le Cagole bag
Perhaps you're on holiday somewhere sunny, or just going on a date night. Opt for a satin slip dress, and some strappy sandals. Complete your look with this green le cagole inspired bag. Gorgeous!
Pictured above: EGO green bag (£25), MANGO green dress (£19.99), EGO white scrappy heels, (£19.99)
---
15.
Bling, bling! This crystal le cagole inspired bag is the definition of a statement bag. For all your nights out, this is the bag you need. 😍 I'm picking one up for myself!
---
16.
We are also loving this gold version from EGO!
---
17.
This Balenciaga le cagole bag dupe has a perfect neutral colour, which is sure to go with all your outfits, especially this autumn.
---
18.
We are also feeling this edgy version from H&M! Available in 2 colours, white & green.
---
19.
This black version is easy to style and will go with anything in your closet.
---
20.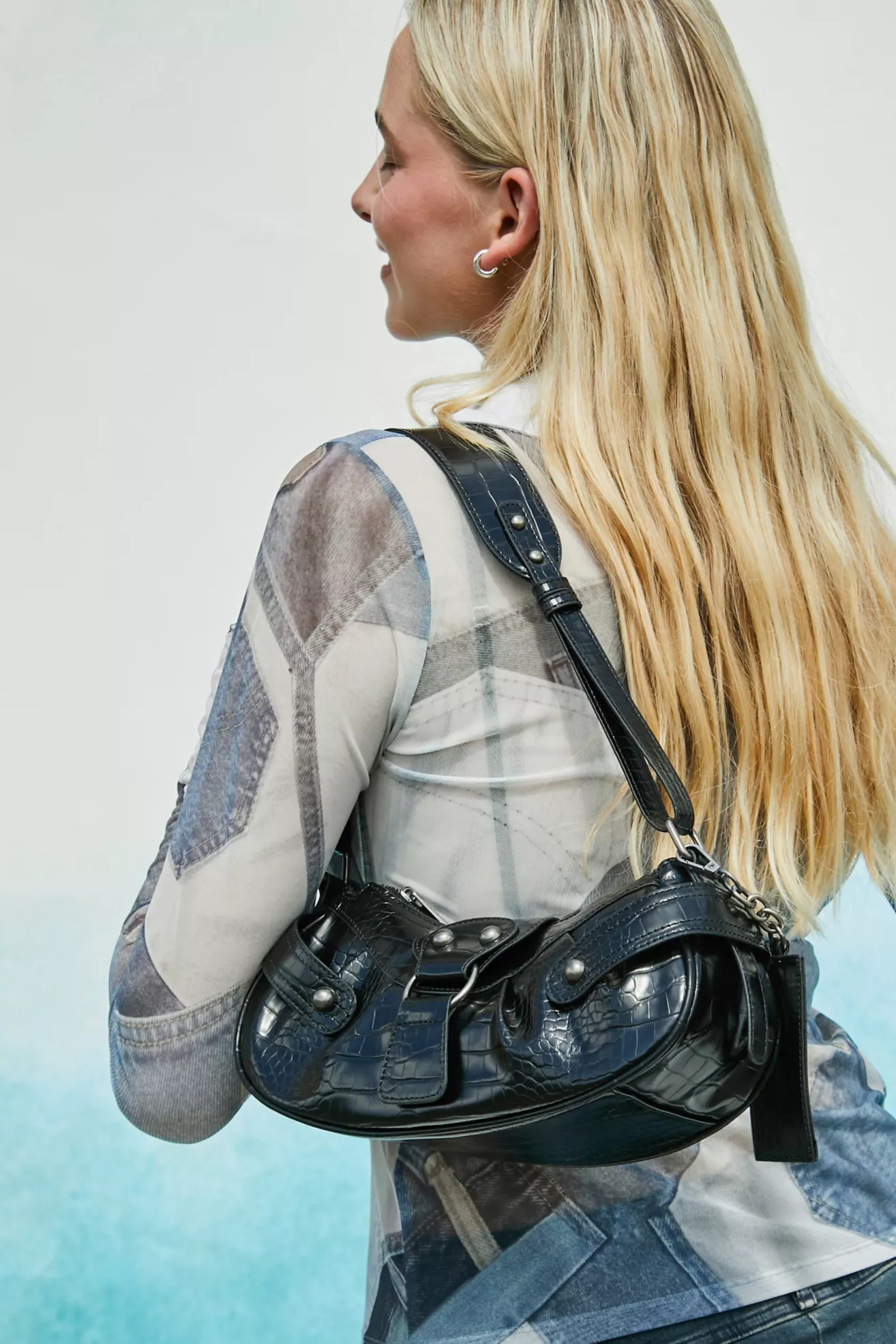 Urban outfitters is the real MVP for this y2k-esque bag that is a perfect lookalike of the Balenciaga le cajole bag. Available in 5 colours.
---
More from The Best Dupes
---
What Designer Dupe Would You Like To See Next?
Make your suggestion 👇
---
---