I'm a beauty specialist with over 6+ years at Sephora, and I have done my research and rounded up the best Drunk Elephant moisturizer dupe from $10. Keep reading to find out more.
If you've been surfing the wave of skincare trends lately, you might have stumbled upon an unlikely name — Drunk Elephant.
Despite the playful moniker, Drunk Elephant Moisturizers are no laughing matter. They're serious business in the skincare industry and are rapidly gaining popularity among skincare enthusiasts and experts alike.
In this blog post, we'll unravel the allure of Drunk Elephant moisturizers, their standout ingredients, and the effects they have on your skin. Including the best Drunk Elephant moisturizer dupe with similar ingredients & effects.
Why are Drunk Elephant Moisturizers Popular?
As a brand, Drunk Elephant believes in a "Clean Compatible" philosophy, which means their products are free of what they call the "Suspicious 6″—essential oils, drying alcohols, silicones, chemical screens, fragrance/dyes, and SLS.
It's a significant selling point for consumers looking to eliminate potential irritants from their skincare regimen.
When it comes to their moisturizers, Drunk Elephant has curated a range that caters to different skin types and concerns. Each moisturizer is packed with high-quality, active ingredients that deliver visible results.
But stick around, we are about to show you the best Drunk Elephant moisturizer dupe alternatives 🔎
What Is The Most Popular Drunk Elephant Moisturizer?
The most popular Drunk Elephant moisturizer is the Protini Polypeptide moisturizer which supports collagen production for stronger, hydrated plump skin, retailing for £59 at Boots UK, and $68 at Sephora US.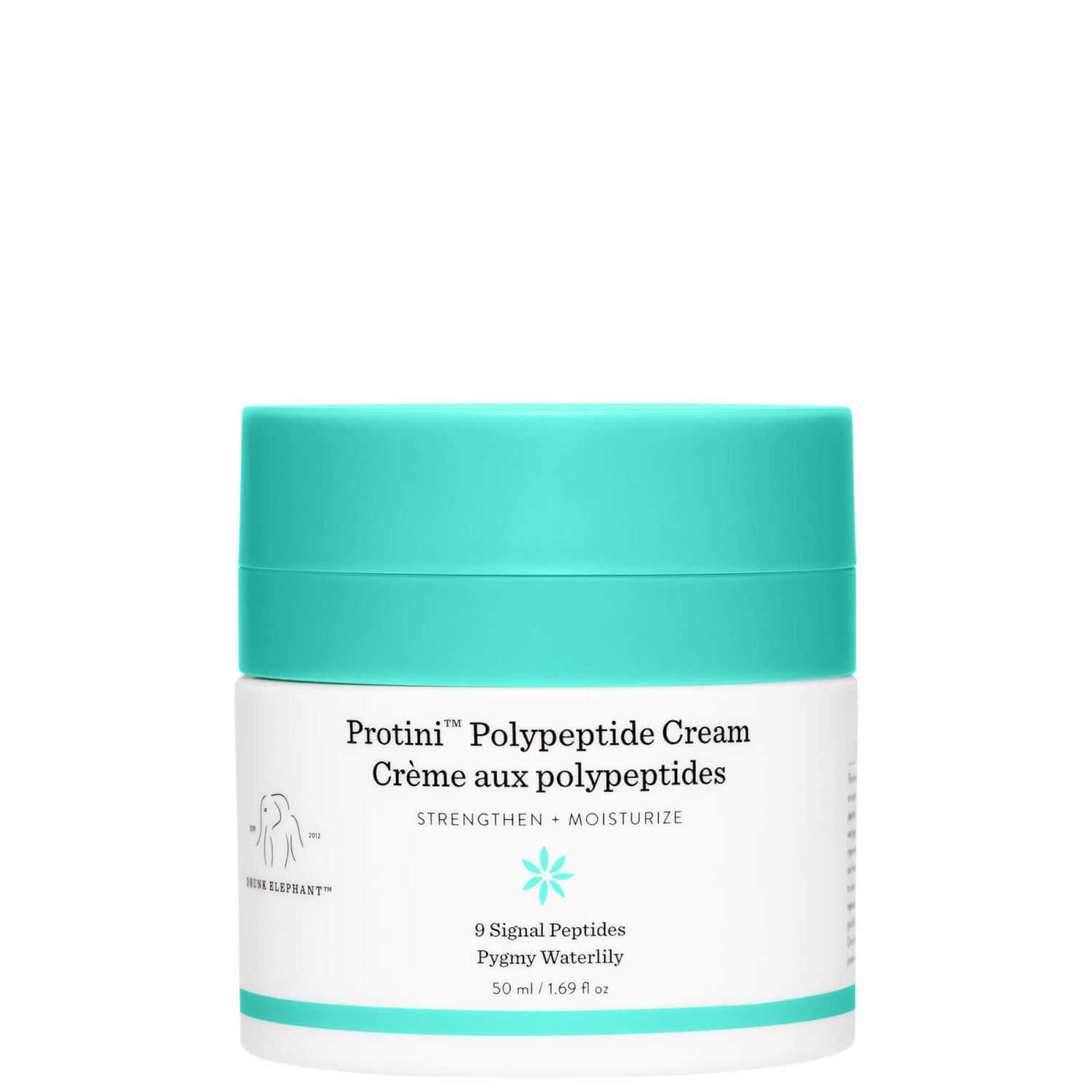 ---
What Is The Second Most Popular Moisturizer From Drunk Elephant?
The second most popular moisturizer from Drunk Elephant is their Lala retro whipped cream, which is utterly hydrating, infused with six African oils and a blend of plant ceramides designed to strengthen and restore your skin's barrier.
Their products have a texture that's not too thick or too light, absorbing beautifully into the skin without leaving a greasy finish—another reason why Drunk Elephant moisturizers are popular.
---
Mix your Bronzing Drops Dupe, (voted by TikTok Makeup Stars), with your Moisturizer dupes.
---
Popular Drunk Elephant Moisturizer Dupe
Let's take a closer look at two of the most popular Drunk Elephant moisturizers, and then their dupes will follow below:
Protini Polypeptide Cream: This protein-infused moisturizer helps to maintain and restore skin health, thanks to a powerhouse blend of peptides, growth factors, and amino acids. This moisturizer's popularity stems from its ability to improve skin's texture, tone, and firmness.
View all the best, expert picks of the Protini cream dupes from $10.
2. Lala Retro Whipped Cream: Lala Retro is an intensive moisturizer designed for dry and dull skin. Its air-whip texture delivers a dose of moisture, featuring a blend of six African oils and a plant ceramide complex to reinforce the skin's natural barrier. The result is a visibly bright, nourished complexion.
View all the best, expert picks of the Lala whipped cream dupes from $15.
Exploring the Drunk Elephant Moisturizer Dupe 🔎
Although Drunk Elephant's products are a viral knockout, their prices might deter some who love the product but simply can't justify paying so much for a tiny bottled product. Thankfully, as a skincare expert, I have done extensive research, tried & tested and also collected votes from some of the top Makeup Influencers of 2023.
According to professional beauty blogs, TikTok influencers, but most importantly, real life customers who have tried and tested other products and deemed them as "the perfect Drunk Elephant moisturizer dupe", here are the best affordable creams that contain similar – if not, the same ingredients and formulas as the Drunk Elephant creams.
Let's dive in 🔎
Where Can I Buy Drunk Elephant Moisturizer Dupe?
Keep scrolling for our detailed break down of ingredients list & effects from customers 👇
Shop Drunk Elephant Moisturizer Dupe
Starting with the Drunk Elephant Protini Polypeptide moisturizer, here are our top 3 dupes that have similar ingredients to the original, and will give similar incredible results to your skin.
Top 3 Dupes Of Protini Cream

🧴
1.
Our top voted Drunk Elephant moisturizer dupe is by boots.com, $12
This ultra hydrating moisturizer contains the same peptide as Drunk Elephant, with ceramides and collages that helps skin look instantly younger and refreshed.
2.
Our second top voted Drunk Elephant moisturizer dupe, which is viral on TikTok is by theinkeylist.com, $15.99
This ideal alternative to the Drunk Elephant cream harbors the same peptides that aid in tightening and reviving the skin.
3.
Our most affordable dupe of Drunk Elephant Moisturizer is by larocheposay.com, $8.50
With its soothing effect, this versatile balm, enriched with cicaplast, intensively hydrates sensitive skin.
---
Next, here are the
top 3 dupes of the Drunk Elephant whipped cream

. 🧴
1.
Acure's rejuvenating night cream with peptides & Vitamin C has "transformed my skin in 1 week" according to a customer. via acure.com, $16.99
2.
With the same airless pump mechanism & ingredients as Drunk & Elephant, it's easy to see why this is the perfect dupe. via theinkeylist.com for $15.99
3.
TikTok makeup enthusiasts always recommend this hydrating moisturiser as a perfect Drunk Elephant dupe. via bubble.com, $16
---
Power Ingredients in Drunk Elephant Moisturizers
As a Drunk Elephant user myself, I highly admire their potent, skin-loving ingredients. Here's a look at some of these power players:
Peptides: Found in the Protini Polypeptide Cream, peptides are chains of amino acids that act as building blocks of proteins such as collagen and elastin. They help maintain skin firmness, elasticity, and smoothness.
African Oil Blend: The Lala Retro Whipped Cream is packed with marula, baobab, Kalahari melon, mongongo, and ximenia—African oils known for their antioxidant and hydrating properties. These oils nourish and rejuvenate the skin, promoting a radiant, youthful appearance.
Plant Ceramide Complex: Ceramides are lipids that form the skin's barrier and help maintain moisture. By including a plant ceramide complex in their Lala Retro Whipped Cream, Drunk Elephant ensures your skin stays hydrated and protected.
---
The Effect of Drunk Elephant Moisturizers on Your Skin
The popularity of Drunk Elephant moisturizers isn't based on hype—it's grounded in results. Users have reported improved skin elasticity, texture, and hydration. The absence of the "Suspicious 6" also makes these products suitable for sensitive skin types, reducing the risk of irritation or breakout.
Whether you're dealing with aging, dryness, or dullness, the carefully selected ingredients in Drunk Elephant moisturizer dupe work harmoniously to rejuvenate the skin, providing hydration and nourishment without compromising on skin health.
Our Conclusion
In conclusion, Drunk Elephant moisturizer dupe alternatives have proven to be a unique combination of clean, potent ingredients, thoughtful formulation, and effectiveness. With their appealing textures and visible results, it's clear why these moisturizers have become a go-to for skincare enthusiasts everywhere.
Browse more Drunk Elephant dupes here
If you're a skincare fanatic and love taking care of your skin, you will love our skincare dupes.