So, we have scoured the internet to bring you the best Prada bag dupe on the high street from $10. Keep reading to find out more.
Table of Contents
From the cleo bag, the 2005 re-edition bag, to the crystal embellished bags, Prada reinvented the bag industry one by one, and we're living for it!
Prada bags are a must-have for any fashion-forward individual. However, the high price tag attached to these luxury items can often be a hindrance to those who want to rock the Prada look. Luckily, there are numerous Prada bag dupes that provide an affordable alternative to the original.
It's also essential to consider the durability of the bag when purchasing Prada bag dupes. The lower-quality materials used in the production of these bags mean that they are likely to wear out faster than the original Prada bags.
However, if you want to save money, you can find high-quality Prada bag dupes that are made of durable materials and are designed to achieve the same look, without breaking your bank.
What's best?! You can style your Prada bag with our Prada monolith boots dupes!
Prada bags have been one of the most sought-after luxury accessories for years. The iconic Italian brand is known for its timeless designs and high-quality materials, which make its bags a favorite among fashion enthusiasts. However, with prices ranging from hundreds to thousands of dollars, owning a Prada bag is a luxury that only a few can afford.
What's more to love about Prada bags? We also know that influencers love Prada bags for their timeless designs, high-quality materials, iconic status, versatility, and brand recognition.
Whether they're wearing them for a photoshoot, on the street, or just for fun, Prada bags have become an essential part of the influencer's wardrobe.
The The famous Prada cleo bag for instance retails for £2,400, the price as of 2023.
But what if we told you that you could get the same stylish and sophisticated look of a Prada cleo bag dupe without breaking the bank? Yes, it's possible with our expertly picked Prada bag dupes!
Let's dive into the Prada bag alternatives!
---
Prada Cleo bag dupe
The Prada Cleo bag is a new addition to the Prada family of handbags, introduced in 2021. This bag is inspired by the iconic Prada Galleria bag and features a sleek, modern design that combines timeless elegance with contemporary sophistication.
The Prada Cleo bag dupe is made with high-quality materials and features a structured silhouette with a top handle and detachable shoulder strap, allowing you to carry it in multiple ways. It also has a spacious interior with multiple compartments, making it an ideal choice for those who like to stay organized on-the-go.
These expertly picked Prada Cleo bag dupes comes in a variety of colors, from classic black and brown to bold and bright shades, making it easy to find a color that matches your personal style. And because of its timeless design and versatile features, the Cleo bag is suitable for a variety of occasions, from work to weekend.
Let's take a look at some of the Prada cleo bag dupes below!
1.
These are hands down the best Prada cleo bag dupe we found, with 3,500+ orders and positive image reviews. PS, I just ordered one! 😍
---
2.
This is the 2nd best seller on DHgate, made with a higher quality. Over 895+ orders with positive image reviews.
---
3.
This is a perfect alternative to the cleo bag from H&M! Black and white available 🤍🖤
---
4.
This bag from Mango perfectly mimics the shape of the Prada cleo bag! This is for sure a sustainable piece that will last you for ages!
---
5.
Also available in a classic brown colour!
---
6.
Perfection in a bag, 😍. We are absolutely loving this patent leather cleo inspired bag by H&M!
---
7.
A similar style is also available at Mango, with slightly better quality.
---
8.
Now for a little edge, this oval shaped by from Charles & Keith is another Prada cleo bag alternative we are loving. 👌
---
9.
For all your neutral outfits this season, why not consider this beige curved bag by Mango? 🤍
---
10.
We are loving this classic curve bag from SHEIN! The most affordable dupe yet!
---
Prada Crystal Cleo bag dupe
The Prada Crystal Cleo bag is a luxurious and stylish handbag that combines the elegance of crystal embellishments with the sleek and modern design of the Cleo bag. This bag is the perfect accessory for adding a touch of glamour to any outfit and is sure to turn heads wherever you go.
The standout feature of the Crystal Cleo bag dupe is the stunning crystal embellishments that adorn the front of the bag. The crystals add a touch of sparkle and glamour to the bag, making it perfect for clubbing, dinner and even special occasions, such as weddings, parties, and red carpet events. ✨
Let's take a look at some of the Prada crystal cleo bag dupes below!
Prada Crystal Cleo Bag Dupe
1.
This rhinestone oval shaped bag from H&M is a knockout! A best-seller which is selling very fast, this bag heavily resembles the Prada crystal bag ✨
---
2.
This H&M bag is also available in 4 colours, we are loving this pink! 💕
---
3.
If you're looking for something that looks exactly like Prada, look no further than this replica from DHGate. Over 90+ orders and 99.3% positive feedback.
---
4.
We are also loving this gold version, over 40+ orders with 100% positive feedback.
---
Prada Mini Bag Dupe
1.
---
2.
Comes with Prada logo. High quality. This seller has 100% positive feedback.
---
3.
This best-seller on DHGate has over 500+ orders, with 5 star reviews. Comes with the Prada logo, available in 8 colours.
---
4.
We are also loving this alternative from Amazon, perfect to brighten up your winter days, but also made to pair with all your spring and summer outfits! 💜
---
5.
This cute bag from PrettyLittleThing is perfect for casual & dressier outfits. I would deffo be heading to the club with this 💚
---
6.
Also available in a gorgeous khaki version.
---
7.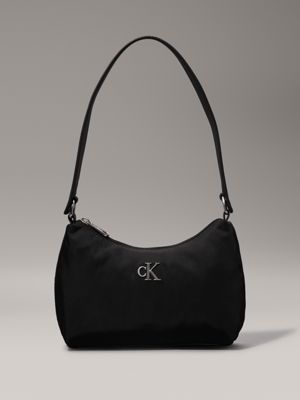 A true classic, this Calvin Klein mini bag perfectly resembles Prada.
---
Prada 2005 Re-Edition Nylon Bag Dupe
1.
We are absolutely loving this dupe from Amazon!
---
2.
We are also loving this bag from SHEIN 🖤
---
3.
If you're seeking something high quality, with the Prada logo, opt for this bag from DHGate. Over 800+ orders and 5 stars feedback. Available in black, white, brown, red, and blue.
---
Prada triangle bag dupe
The Prada Triangle Bag is a iconic and recognizable luxury handbag designed by Italian fashion house Prada. It was first introduced in the 1990s and remains a popular and highly sought after style. The bag is characterized by its triangular shape and minimalistic design, which is made from high-quality leather and features the iconic Prada logo on the front.
Although, it retails for £1,950, we have found some of the best Prada triangle bag dupes on the high street market that are a lookalike of the real thing.
Let's dive into these dupes!
1.
This bestseller on DHGate has 98% positive feedback, with image reviews. This bag comes with the Prada logo. Made from very high quality.
---
2.
If you're looking for something more affordable that looks exactly like the Prada triangle, look no further than this dupe. I've also picked up one for myself!
---
3.
We are also loving this patent leather effect bag. This black versatile colour is sure to go with all your outfits!
---
4.
With over 50 orders and 5 star positive feedback, this triangle bag is the perfect Fendi triangle bag dupe.
---
5.
Unleash your inner Y2K girl aesthetic with this gorgeous baby pink Prada triangle bag dupe!
---
6.
Also available in black, trust us, a versatile bag that will go with all your outfits!
---
7.
Add a blue pop of colour to your outfits with this gorgeous blue bag from SHEIN 💙
---
More From The Best Dupes