So, we have scoured the internet to bring you the best Prada raffia bag dupe on the high street for a fraction of the price. Keep reading to find out more.
I think it's safe to say we've found the ultimate bag to hit the beach this summer: the Prada raffia tote bag.
An innovative take on Prada's iconic triangle symbol, the Prada logo graces the front of the bag, adorned at its heart with the brand's embroidered logotype. This soft and casually designed tote bag is crafted from a raffia-inspired yarn, a lightweight and organic material that embodies the essence of summer.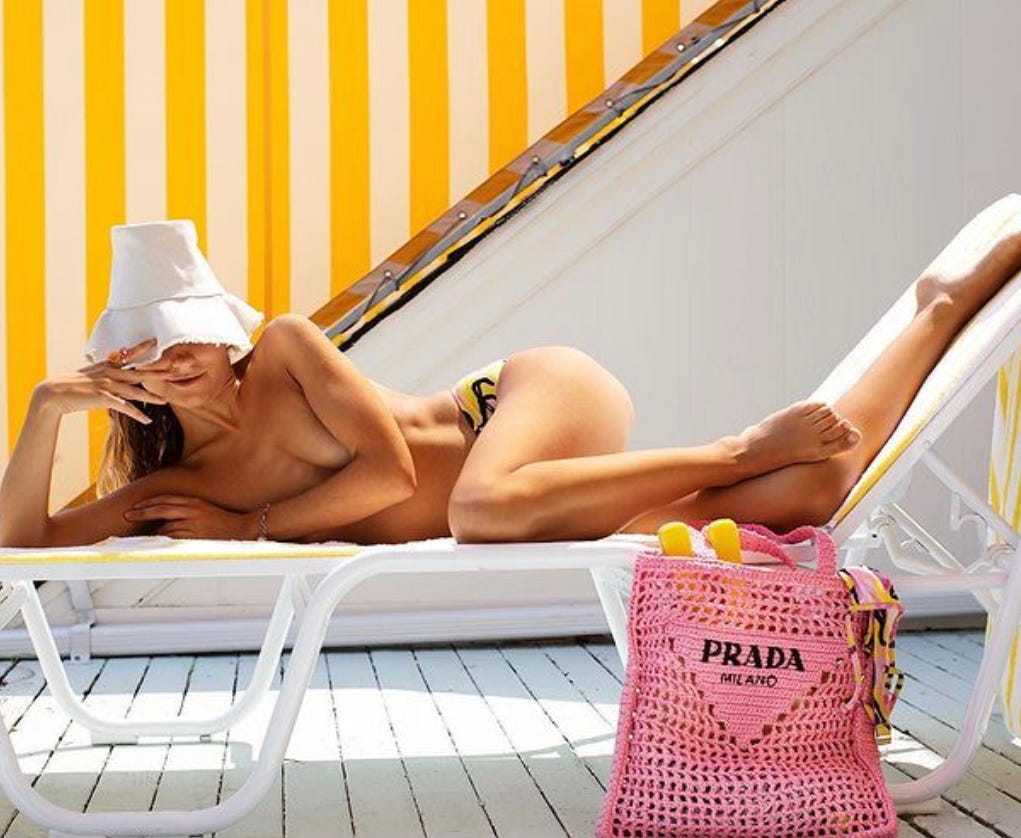 But with its extortionate price point of $1,500, it might not be ideal to everyone, hence why we have scoured the internet to bring you the best Prada Raffia bag dupes on the high street.
The Prada raffia bag is no doubt a summer fave. It has been spotted on the likes of Hailey Bieber, Chiara Ferragni, Rosie Huntington Wiley, and many more fashion influencers. With its vibrant colour choices and flexible structure, it opens a world of versatility for all your outfits this season.
---
---
The Prada raffia bag can be your ultimate beach essential bag for many years to come. Additionally, it can also be your picnic bag, weekend getaway & bag, market shopper bag, need we say more?
If you can afford to make the splurge, shop the Prada crotchet raffia tote bag. However, don't fret, as we have picked out the best Prada crotchet tote bag dupe below! 🔎
Below, fashion blogger Chiara Ferragni styles her Prada raffia net tote bag with a crisp white shirt and a crotchet beanie. Opting for a pink Prada tote bag allows you to add the perfect pop of colour to your outfit, making it highly suitable for the summer season.
It's safe to say it is a must-have this season for all your styling opportunities. Although the Prada raffia tote bag might be expensive for someone who love the style but can't afford to splurge so much, we have picked out the best Prada Raffia tote bag dupes, designed with the same style & high quality in mind from your favourite high street stores which are very affordable.
---
---
These Prada raffia tote bag dupe feature the same versatile net structure to the Prada net bag, various colours to choose from, and most importantly, an affordable price tag. We have picked them out from online retailers like DHGate, Aliexpress, H&M, Mango, EGO & many more. Might we add, these Prada raffia dupes sell out fast so be sure to snatch them up quick!
Let's dive into these Prada Raffia bag dupe!
Shop Prada Raffia Bag Dupe
We saved the best one for last! (Comes with Prada logo)
1.
This is hands-down the best Prada raffia bag dupe we could find on Aliexpress. Bestselling, with over 1000+ sold and 5 star positive feedback.
2.
Also available in the gorgeous popular pink colour worn by celebrities & influencers worldwide.
---
Why not pair your Prada raffia bag dupe with these Prada raffia bucket hat dupes for $10?
---
3.
This versatile black & beige raffia tote bag is perfect for all your summer activities this season. With 5 stars positive feedback from happy customers.
4.
This bestselling bag by EGO comes lined with a linen interior that protects the contents inside your bag from falling out. Comes in 4 colours.
5.
If you're looking for something more edgy & trendy, opt for this crotchet Prada inspired bag by PLT. 5 colours available.
6.
We are absolutely loving this Prada raffia bag dupe in white from Aliexpress. And at that price point, you simply can't resist!
7.
That orrrrange tho! This is a perfect Prada crotchet bag dupe. I absolutely love this colour for summer and I even picked up one for myself! 🧡
8.
Nothing says hot girl summer better than this yellow crotchet bag that resembles Prada from PLT. ☀️
9.
H&M is turning heads with their Prada raffia tote dupe, available in 3 colours. This black version is so versatile because it goes with any outfit.
10.
If you want a hands-free bag that resembles Prada, opt for this one by H&M. The shoulder strap allows you to wear it effortlessly while strolling around running your chic errands. 💅
11.
No.1 Viral Prada Raffia Bag Dupe On TikTok Is This Tote Bag (comes with logo), from dhgate.com, $24
Over 100+ sold, with 5 star positive image feedback. Customers have said "excellent quality, very high quality crotchet that feels like the real thing". 6 colours to choose from!
---
How To Style Prada Raffia Bag Dupe
The styling opportunity are endless due to how versatile the Prada crotchet raffia bag is, whether you're going to the beach, or just running errands.
We particularly like how Gigi Hadid styles her Prada raffia bag below with a cute blouse and oversized ripped jeans.
Where Can You Buy Prada Raffia Tote Bag Dupe?
---
More Prada From TheBestDupes