So, we have scoured the internet to bring you the best Marc Jacobs tote bag dupe from the high street for a fraction of the price of the original. Keep reading to find out more.
It's no secret that a tote bag can make or break an outfit. But when you've got a brand like Marc Jacobs splashed across your arm, you're sure to be making a chic statement where you go.
Okay, in all honesty, there's a reason why these tote bags have become the talk of the town, the chatter in chatrooms, and the stars of Instagram feeds.
But what if we told you, that owning a Marc Jacobs tote bag dupe is just as fashionable, affordable and essentially the smart choice for fashion enthusiasts on a budget?
✨A Juicy What's In My Marc Jacobs Tote Video ✨
In the post we will unpack all the details about the Marc Jacobs tote bag, why its so popular & ways you can style it, and the best Marc Jacob tote bag dupe to help you achieve the same look without breaking the bank.
Who Wears The Marc Jacobs Tote Bag?
From A-list celebrities spotted down the streets of Beverly Hills to the fashion influencers ruling your Instagram feed, these bags are spotted on the arms of style icons worldwide. Gigi Hadid, Kendall Jenner, even Rihanna – all have been snapped accessorizing with a Marc Jacobs tote.
The Marc Jacobs tote is a testament to the brand's dedication to practicality without sacrificing style, embodying a contemporary chic aesthetic that can be easily integrated with your daily outfits.
Whether its your work attire, gym attire, everyday shopping attire, or errands looks, there is no occasion the Marc Jacobs tote bag isn't made for.
This tote features a zipper closure and can be worn by the top handles, or the removable crossbody strap. Additionally, it comes in a variety of sizes and colors, offering something to suit every style and mood (assuming they are not sold out).
But stick around, because below, we have picked out some of the best Marc Jacobs tote bag dupe alternatives that look like the OG, but for a fraction of the price! 🚨
Why Is The Marc Jacobs Tote Bag Popular?
The key to its popularity? Versatility. The Marc Jacobs tote bag effortlessly transitions from casual brunches to late-night dinner parties.
And not to mention the masterful combination of form and function. It's spacious enough to store all your essentials and yet maintains a stylishly structured silhouette.
For that cute, clean girl aesthetic which has been trending majorly on TikTok, one of the best ways to style your Marc Jacobs tote bag is with a ribbed top, like these Diesel ones and your favourite cargo pants – like these viral The Attico cargo pants dupes.
The durable material, innovative design, and variety of colors and styles all contribute to its desirability.
If you have the budget and desire a bag badly that can perfectly hold all your essentials and then some, then go for the Marc Jacobs tote bag. The size pictured below is the medium. It is also available in a small (£325) and large (£375).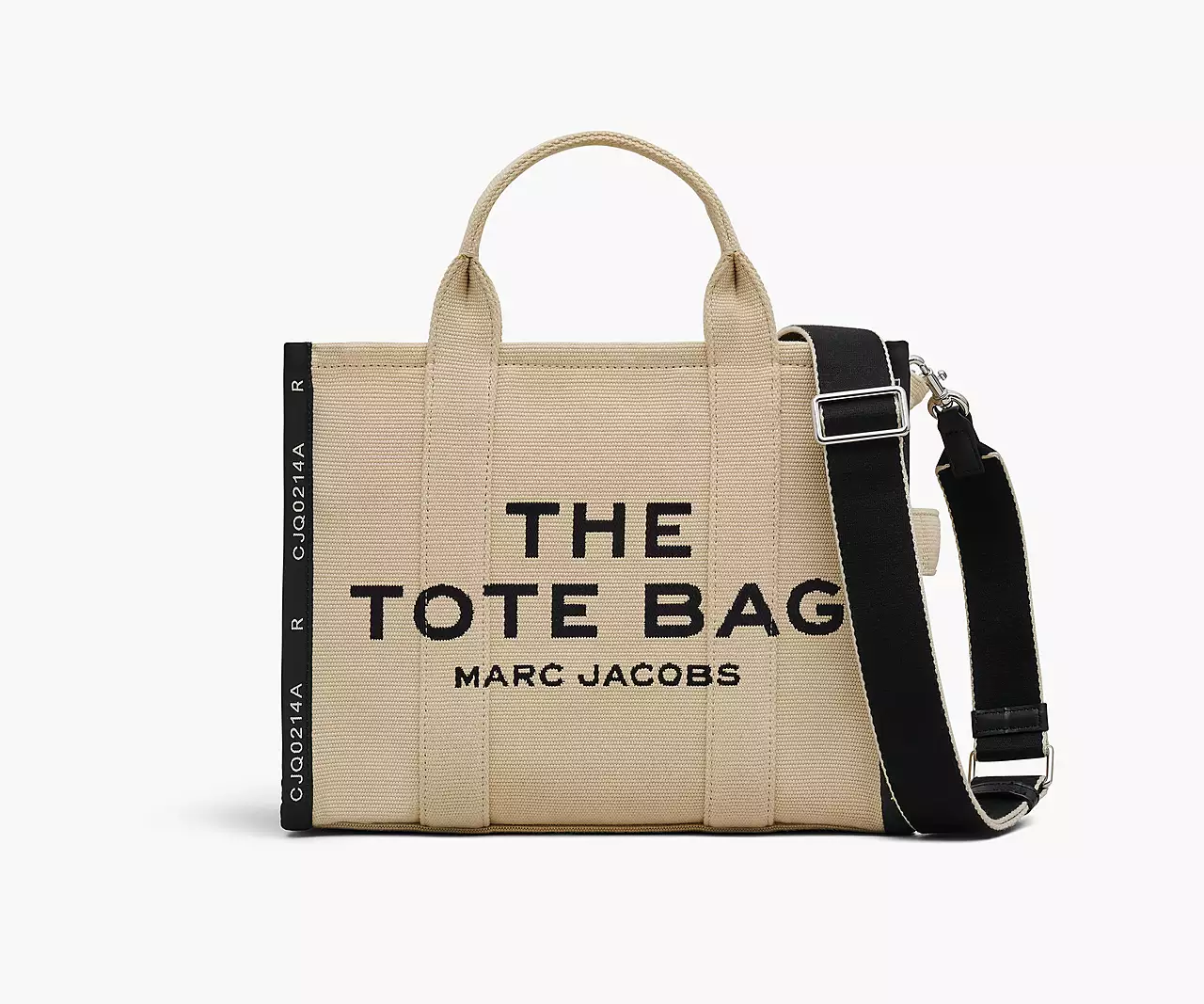 Available in both beige and black colour, two versatile colours that are sure to go with your outfits in any season.
The Rise of the Marc Jacobs Tote Bag Dupe
Now, here's the plot twist. You don't need to break the bank to join the chic Marc Jacobs tote club. Enter stage left: the Marc Jacobs tote bag dupe.
Many fashionistas who love the style of the tote simply can't justify forking over $300 – $500, so the search for the perfect dupe began.
These bags mimic the original's iconic style but at a fraction of the cost. And when we say 'fraction', we mean it – some of these dupes can save you hundreds of dollars. The beauty of these bags is that they are easily accessible, affordable and are almost indistinguishable from the original.
All The Sizes Of The Marc Jacobs Tote Bag
Whether you opt for small, medium or large, there is a perfect size for you that fits your lifestyle!
Marc Jacobs Tote Bag Dupe
Uncovering these budget-friendly treasures is easier than you might think. We found, tried and tested these high street dupes, so we can vouch for the quality, style similarity, but most importantly, functionality!
I carry my whole life in my Marc Jacobs Tote Bag dupe, like my laptop, iPad, iPhone & Apple AirPods Max dupes. To even a cute little jumper for when it gets chilly in the evenings when I'm out with friends. PS, my friends always ask me where my bag is from because it looks just like Marc Jacobs, but its a dupe!
Ready to dive into these Marc Jacob tote bag lookalikes? Let' explore! 👇
1.
The No.1 best Marc Jacobs Tote Bag Dupe that looks just like the real thing. via amazon.com, $34
This style is 'A01-a-beige'.
2.
2nd bestseller on Amazon is this Canvas bag, available in 5+ colours. via amazon.com, $24.99
This bag is perfect for everyday essentials. Size Large: 33 x 16 x 27 cm
3.
This versatile neutral colour is sure to go with all your outfits. This style is called '01 Camel'
4.
This is the most affordable dupe we could find of Marc Jacobs Tote bag by SHEIN, $18.50
This bestseller on SHEIN has over 100+ positive reviews. Over 15+ colours to choose from.
5.
If you want a Marc Jacobs tote bag dupe that looks exactly like the real thing, opt for this by dhgate.com, $26
Styling Your Marc Jacobs Tote Bag Dupe
Whether it's a dupe or the real deal, a Marc Jacobs tote bag can add a dash of high-fashion flair to any outfit. Try pairing it with mom jeans, a chic blazer, and a pair of loafers for a relaxed yet sophisticated weekend look. Or, dress it up with a little black dress and heels for an evening soirée.
How To Style: Black Marc Jacobs Tote
One Of Our Fav Styles: Pair your tote bag with high waisted jeans, a cut out backless top, and Nike Air Jordan trainers.
For your makeup look, wear a hydrating moisturiser like these Drunk Elephant dupes or these Charlotte Tilbury dupes, and finish up your look with the popular Clinique Black Honey Lipstick that has gone viral on TikTok.
Ultimately, the power of fashion lies in its ability to tell a story, and your Marc Jacobs tote bag dupe is ready to narrate an epic tale of style and savvy shopping.
Happy shopping!
Browse more designer bag dupes here