So, we have scoured the internet to bring you the best Jimmy Choo Aveline bow heels dupes on the high street market. Keep reading to find out more.
Table of contents
If there's one shoe that has been acclaimed 'the princess shoe', its the Jimmy Choo Aveline bow heels.
Debuted in 2019, the Aveline sandals are a permanent collection of Jimmy Choo's with new variations released often. Its selling point is its asymmetric elegant oversized bows at the front & the back of the sandal.
Jimmy Choo practically revolutionalised the strappy sandal by adding a soft touch of elegance and femininity through the bows. These shoes became widely popular, and became the statement sandal of the season.
Perhaps you're getting dressed for a wedding, a date night, a party on a yacht, lunch date with your partner or girlfriends, there is no occasion the Jimmy Choo Aveline bow sandals aren't made for.
Fun fact: Hailey Bieber wore her Jimmy Choo Aveline bow sandals on the night when she was marrying Justin Bieber, how gorgeous are those shoes? 😍
What Do You Think Of The Jimmy Choo Aveline Bow Sandals?
Although, it comes with a whooping price tag of £795, we are going to help you achieve the same look without breaking the bank with our Jimmy Choo bow sandals dupes.
These Jimmy Choo bow sandals dupes look almost identical to the real thing, and are available in a multitude of colours to choose from, perfect for any occasion you might have. The best part? These Jimmy Choo bow lookalikes start from just £29!
They're so good, I even picked one for myself 😍
Let's take a look at the Jimmy Choo bow sandals dupe
Shop Jimmy Choo Bow Heels Dupes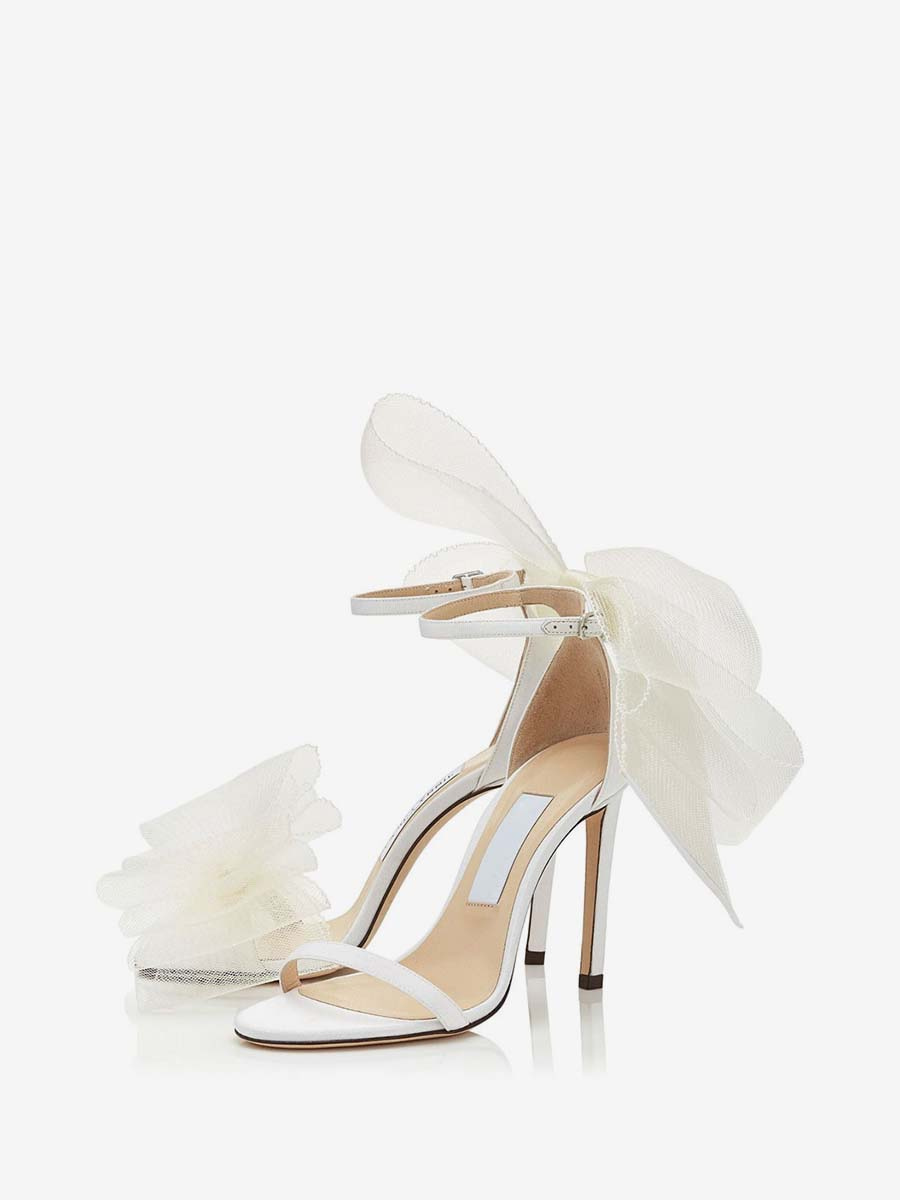 Grab these heels now 70% off discount! Available in white, black, purple, lime, and pink! Comes with the asymmetric placement of the tulle bows which looks identical to the Jimmy Choo pair! We LOVE! 🤍
---
We are loving this gorgeous tulle bow sandal, available in black & pink. Selling extremely FAST!
---
How gorgeous is this tidy bow on this satin heels? Perfect for any glamorous occasion you have planned this season!
---
The most gorgeous Jimmy Choo aveline dupe from SHEIN, with asymmetric bow design, available in pink, red, and white. Selling VERY FAST.
---
We are also loving this simple ASOS white tulle bow sandals with the double strap detail.
---
Dance the night away in these pink satin and tulle bowl sandals from ISawItFirst! Selling very FAST!
---
For a more sophisticated look, opt for this black pointy toe satin heels with tulle bows at the back.
---
Spice up your life with a pop of colour with this gorgeous satin green bow heels from ASOS!
---
For a neutral vibe, opt for these beige strappy heels with a tulle bow by Coast.
---
Sign up to our newsletter below to be the first to know when these are back in stock! 👠
---
---
More From The Best Dupes