So, we have scoured the internet to bring you the best Pandora sun and moon ring dupe from the high street from just $5. Let's explore.
From Taylor Swift fans, to the captivating by the twinkling dance of stars and the mysterious allure of the moon, it is impossible to deny the Pandora sun and moon ring has such a bewitching charm.
It was reported in June of this year that Taylor Swift fans had caused jewellery giant Pandora a mass globe shortage by making the Pandora sun and moon rings sell out due to the fact they were connecting the celestial rings to Taylor Swift's song titled 'Midnight Rain'.
Both the Pandora sun and moon rings sold out almost instantly as Swift's fans felt like the lyrics in her song perfectly encapsulated the celestial sparkling of both the sun and moon ring.
In fact, it's almost impossible to get your hands on a Pandora sun and moon ring – providing they are still in stock (let's not even talk about the price increase due to how in demand they are).
Shop Pandora Sun & Moon Ring Set
But stick around, because we have found the dupes of these from just $5 below! 👇
Why Is Pandora So Popular?
Founded in the heart of Copenhagen back in 1982, Pandora began its journey not as the titan of jewelry it is today, but as a humble jeweler's shop. The brainchild of a goldsmith named Per Enevoldsen and his wife Winnie, Pandora's creations became the stuff of legends. Their pieces, like whispered secrets, travelled from person to person, town to town, and before long, across borders and oceans.
The sun and moon ring, one of their celestial masterpieces, is a reflection of this very journey — a dance of light and darkness, creating a harmonious balance.
Why Are Pandora Sun and Moon Ring Dupes So Popular?
The term "dupe" might sound deceiving at first, but in the world of fashion and jewelry, it's a badge of honor. These are pieces inspired by iconic designs, offering a sprinkle of that magic without burning a hole in your pocket.
But why has the "Pandora sun and moon ring dupe" become such a hot topic?
Well, 3 things.
Accessibility Over Exclusivity: Not everyone lives next door to a Pandora store. And for many, walking into a store and trying on that beautiful ring remains a dream. Dupes bring those dreams a step closer to reality.
Budget-Friendly Bling: We all love a bit of luxury. But sometimes, our bank accounts beg to differ. Dupes provide that touch of elegance without the hefty price tag.
A New Spin on a Classic: Sometimes, a dupe isn't just a copy. It's a fresh take on a beloved design, allowing wearers to celebrate the original in a new and exciting way.
Why Should You Buy Pandora Sun and Moon Ring Dupes?
Whether you're Team Original or Team Dupe of the Pandora Sun and Moon Ring, wearing this ethereal piece is all about expressing yourself:
Solo Serenade: Let the ring shine in all its glory on your middle or index finger. It's a story powerful enough to stand alone.
Stacked Stories: Mix and match with slim bands or other thematic rings. Each ring can represent a chapter of your celestial tale.
Celestial Symphony: Don't stop at the ring. Combine it with a starry anklet or a crescent moon pendant, weaving a galaxy around you.
PS, if you're a Taylor Swift fan and you've felt like you've missed out, these Pandora Sun and Moon Ring dupe alternatives we have found for you will certainly change that.
Where To Find Pandora Sun And Moon Ring Dupes?
Pandora Sun and Moon Ring Dupe
1.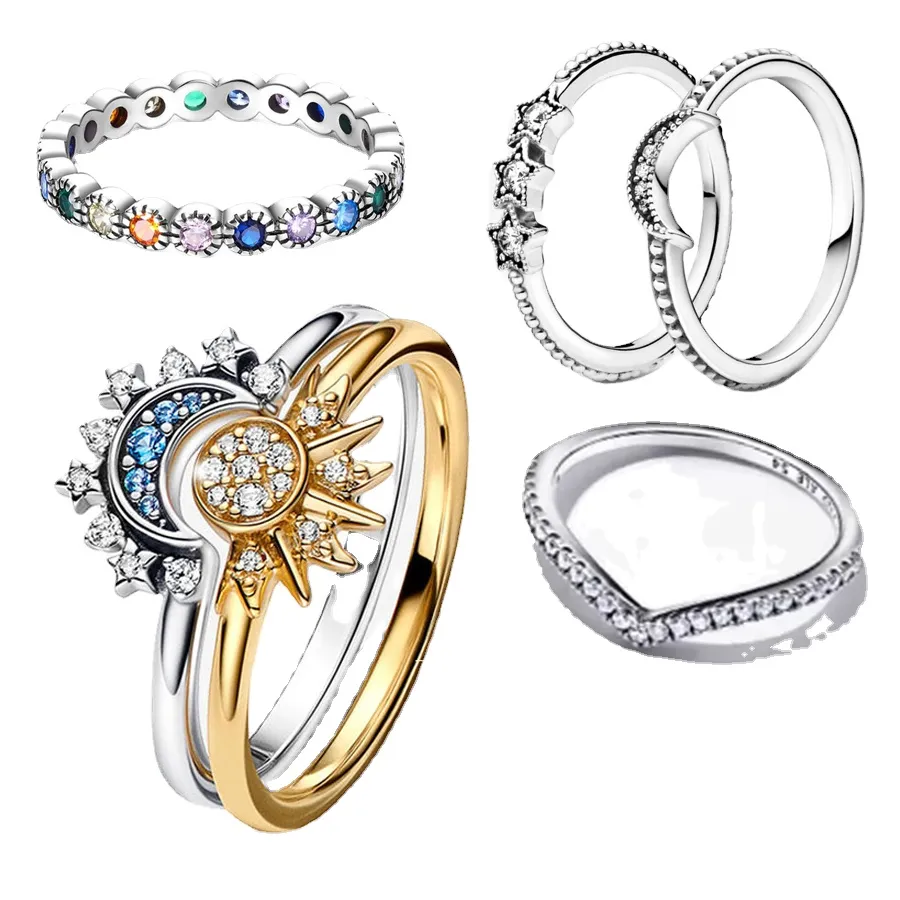 Made from Sterling Silver, this engraved 'Pandora' rings are the bestseller on online retailer DHGate, a store known for selling high quality identical dupes. Sold over 50+ times with 5 star feedback. One customer says "really nice ring, looks just like the original".
SHOP: DHGate Celestial Sun & Moon Rings, £6.83