So we have scoured the internet to bring you the best Max Mara Teddy Coat Dupes from £30. These Max Mara teddy dupes look exactly identical to the real thing for a fraction of the price.
---
Table of Contents
---
But first, let's dive into the history of the Max Mara Teddy Coat.
If there's one brand that has acclaimed the notable title for 'best brand for winter coats', its Max Mara. This Italian fashion house is known for its ready-to-wear clothing that has been spotted on many A listers and celebrities, like Meghan Markle, Kim Kardashian, Hailey Baldwin, Jennifer Lopez, and many more.
The Max Mara teddy coat in particular, which was introduced in the runway in 2013, rose to fame in 2019 when it was worn by fashion influencers like Rosie HW, Chiara Ferragni, and many more fashionistas. This coat then became Max Mara's staple piece, and the coat has been trending ever since.
The original Max Mara coat retailed for £1,680 when it first came out. However, due to the demand for this coat which is wanted by millions of fashionistas worldwide, Max Mara since then have introduced new colours, styled and textures of their iconic teddy coat. As of 2021, the Max Mara teddy coat now retails for £2,150. This coat's popularity keeps growing as the demand for it increases.
Since the release of this teddy coat, it has inspired lots of copy's from other brands as teddy coats are the official must-have piece for your winter closet. It is incredibly warm, stylish, comfortable and effortless. The effortlessness and comfort of the Max Mara teddy coat is the biggest selling point.
It is no wonder this coat is loved by millions, and the demand is growing everyday. We understand that not everyone might want to splurge £2,000 for a coat, so we scoured the internet to find coats that look very similar to Max Mara teddy coat.
Luckily, we have found Max Mara teddy coat dupes that look exactly identical to the real thing from Aliexpress. Additionally, we also found Max mara teddy coat inspired coats from high street brands from brands like ASOS, River Island, Boohoo, and many more that help you achieve the same look, without breaking the bank.
These Max mara teddy coat lookalikes have been purchased by over 10,000+ of our readers, and we are updating our links daily to bring you the best, high quality designer dupes.
Let's take a look at these dupes!
Shop Max Mara Teddy Coat Dupes
1.
This is hands down the best Max Mara teddy coat dupe you will ever see. It is made from the same material Max Mara use, and has the same chunky chic look at the Max Mara teddy coat. It will last you a lifetime. 99% positive feedback.
---
2.
On the more affordable side, this teddy wool coat is another bestseller on Aliexpress. Available in different sizes and colours to choose from.
---
3.
Made from 90% cashmere and 10% silk, this Max Mara teddy dupe by Aliexpress is made to look like you literally took a trip to the Max Mara store. Available in cream colour, this seller has 100% positive feedback so you know you are getting the very best.
4.
We are also loving this teddy coat, which is made with 100% cashmere, which makes it very high quality. Rest assured, this sustainable coat will last you for many years. This seller has 99.2% positive feedback.
---
5.
This Aliexpress seller has 98.6% positive feedback, and sells amazing teddy coats available in 14 different colours!
---
6.
This utterly stylish faux fur coat is another stunner we can't keep our eyes off. Available in over 10 colours, colour coordinate your outfits this autumn. 🤍
---
STYLE TIP:

Style your coat with jeans, a jumper and some boots for a stylish and comfy look this season. Occasionally, you can wear a hoodie, and track-pants and some white trainers with your coat.
STYLE TIP:

Spice up your life with some colour. Throw on an all black outfit and add some boldness to your look with a colourful teddy coat. Additionally, you can also style this coat with a blue turtle neck sweater and some jeans.
---
STYLE TIP:

Opt for an accessory with a hint of pink, like a bag or shoes. Pair it with some jeans, or leather pants. Style it with a pink teddy coat.
---
Shop High Street Max Mara Teddy Coat
For Max Mara inspired teddy coats from the high street brands like Mango, Goelia, H&M, and many more, here are some of the best selling teddy coats we have picked out for you. Available in different colours.
1.
2.
This sustainable teddy coat is such a great option. This colour is super cute and is perfect for winter season. Style it with cream and neutrals, and pair it with some Bottega style boots.
---
3.
If there's one classic coat that is sure to last you for all autumn season, it's the one. It's appropriate for work, school, or even travel. This brown colour is so versatile.
---
4.
This Boohoo teddy coat is almost similar to the Max Mara teddy coat. It is incredibly warm, and has an oversized fit. Available in different colours.
---
6.
This ASOS teddy coat is a best seller because of how stylish and comfortable it is. Style it with a pair of jeans and boots this autumn, and for evenings, throw it over a mini-dress and some tights and heels.
---
7.
The bestselling boohoo teddy coat is also available in a cream colour. Style it with jeans, or even leather pants for an edgy look.
---
Also available in chocolate.
---
Also available in black.
---
This coat is from the brand UGG. It has pockets, and a relaxed fit and made with Sheepskin-like fabric.
---
STYLE TIP: Style your black teddy coat with blue, black or grey jeans as it goes with any colour. Throw on a cosy jumper, some ankle boots or trainers.
---
STYLE TIP: Opt for a monochromatic look with your white teddy coat. Style it with white pants, and a sweater. Opt for trainers or loafers during the day, or heels for the evening.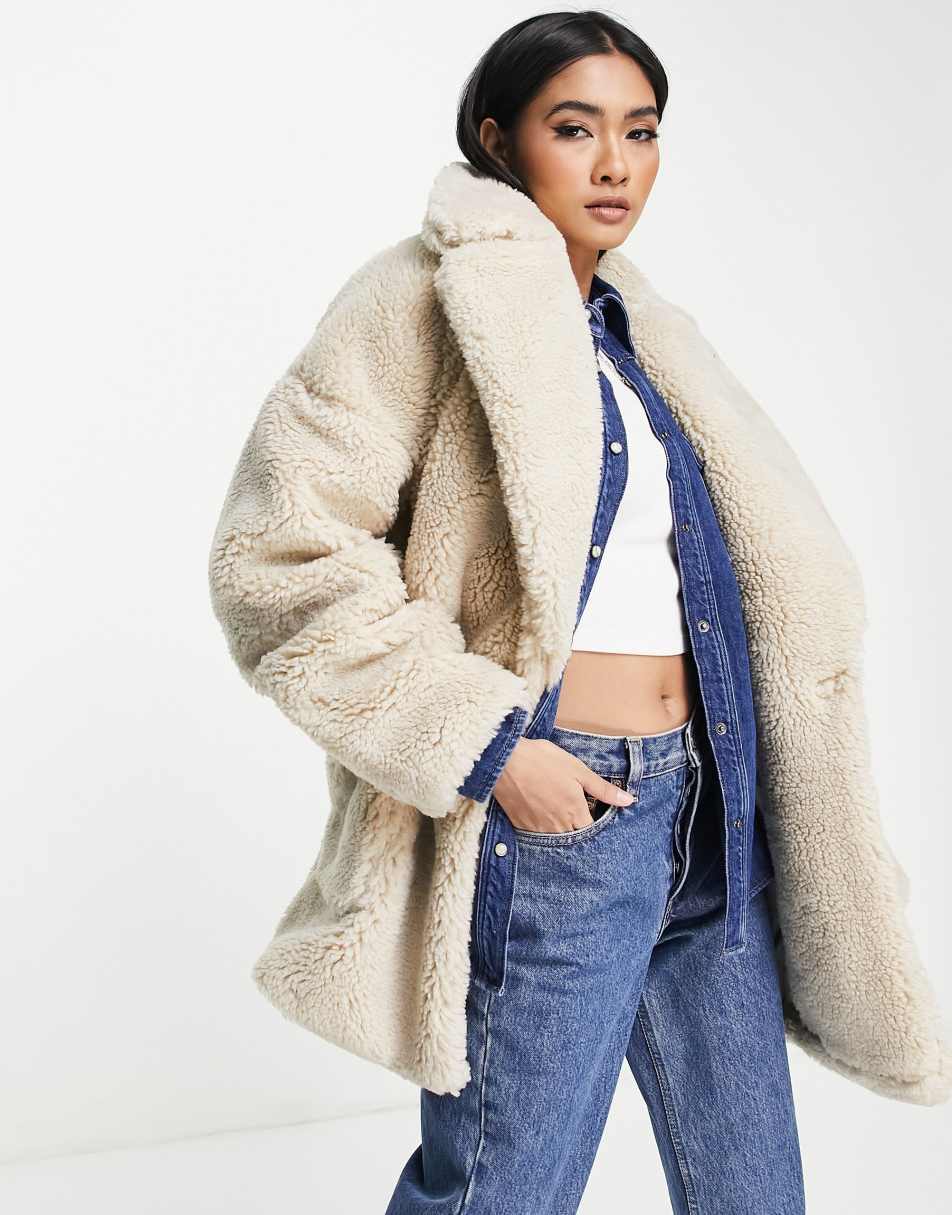 ---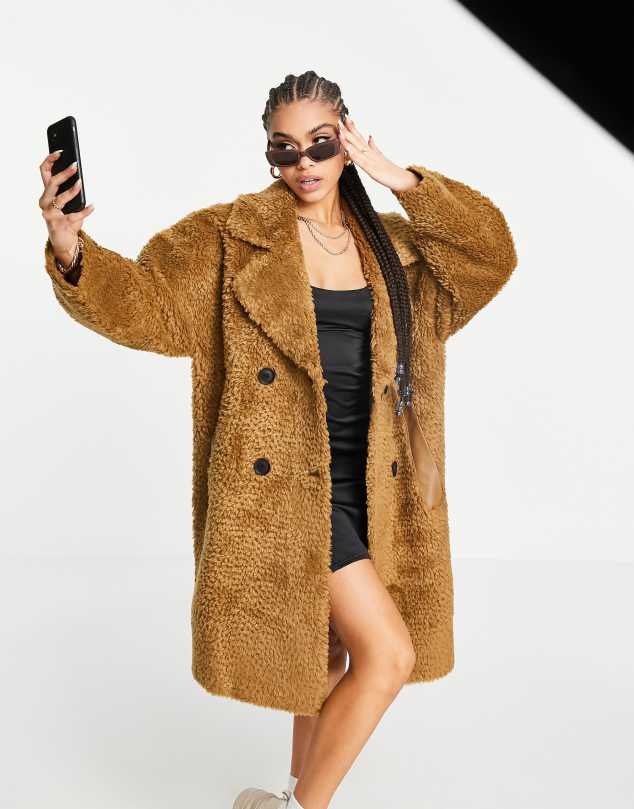 ---
More From The Best Dupes