So, we have scoured the internet to bring you the best Stanley cup dupes from $5 from alternative and affordable retailers. Keep reading to find out more.
When it comes to outdoor activities or even just your daily commute, having a reliable and durable tumbler cup is essential. One brand that has gained a lot of popularity in recent years for their tumbler cups is Stanley. Their Adventure Tumbler Cups have become a go-to choice for many people, and it's not hard to see why.
The selling point of the Stanley Adventure Tumbler Cups is the high-quality materials they are made with, that are built to last. The cups are made with 18/8 stainless steel, which is not only durable but also resistant to rust and corrosion. This means that your tumbler cup will not only look great but will also last for a long time. Additionally, the Stanley 'the quencher' tumbler cups are designed with a double-wall vacuum insulation, which helps to keep your drinks hot or cold for hours on end.
Another reason why Stanley Adventure Tumbler Cups are so popular is because of their design. The cups come in a variety of colors and sizes, so there is something for everyone. The design is also sleek and stylish, making it a great choice for both outdoor adventures and everyday use. Additionally, the cups are designed with a sweat-proof exterior, which means you won't have to worry about condensation on the outside of the cup.
But it's not just the materials and design that make Stanley Adventure Tumbler Cups so popular. The cups are also designed with functionality in mind. The lid is designed with a sliding opening, making it easy to drink from, and the cup is also designed with a wide mouth, which makes it easy to add ice or clean.
But how much are Stanley cups, one might ask?
Well, these highly durable cups retail from $45 – 200. SSENSE sell the 40oz version for $55.
SHOP: Stanley Adventure quencher 40oz tumbler cup, $45
But what if you like the idea of the Stanley cup, but don't have the coins to fully splurge on these tumblers? Thankfully, we have found the best Stanley cup dupes for you that will offer the same vacuum insulation, durability and convenience, whilst helping you save hugely on costs.
These Stanley cup dupes have been found on bestselling online retailers like Temu, Amazon, and more. From just $5, these Stanley cup dupes are available in a wide variety of colours to choose from, sizes and more. PS, I picked out the hot pink version from Amazon, and I love it so much and never looked back since! It's the ultimate Stanley cup dupe, without breaking the bank.
With that being said, let's dive into these Stanley cup dupes below!
Stanley Cup Dupes
1.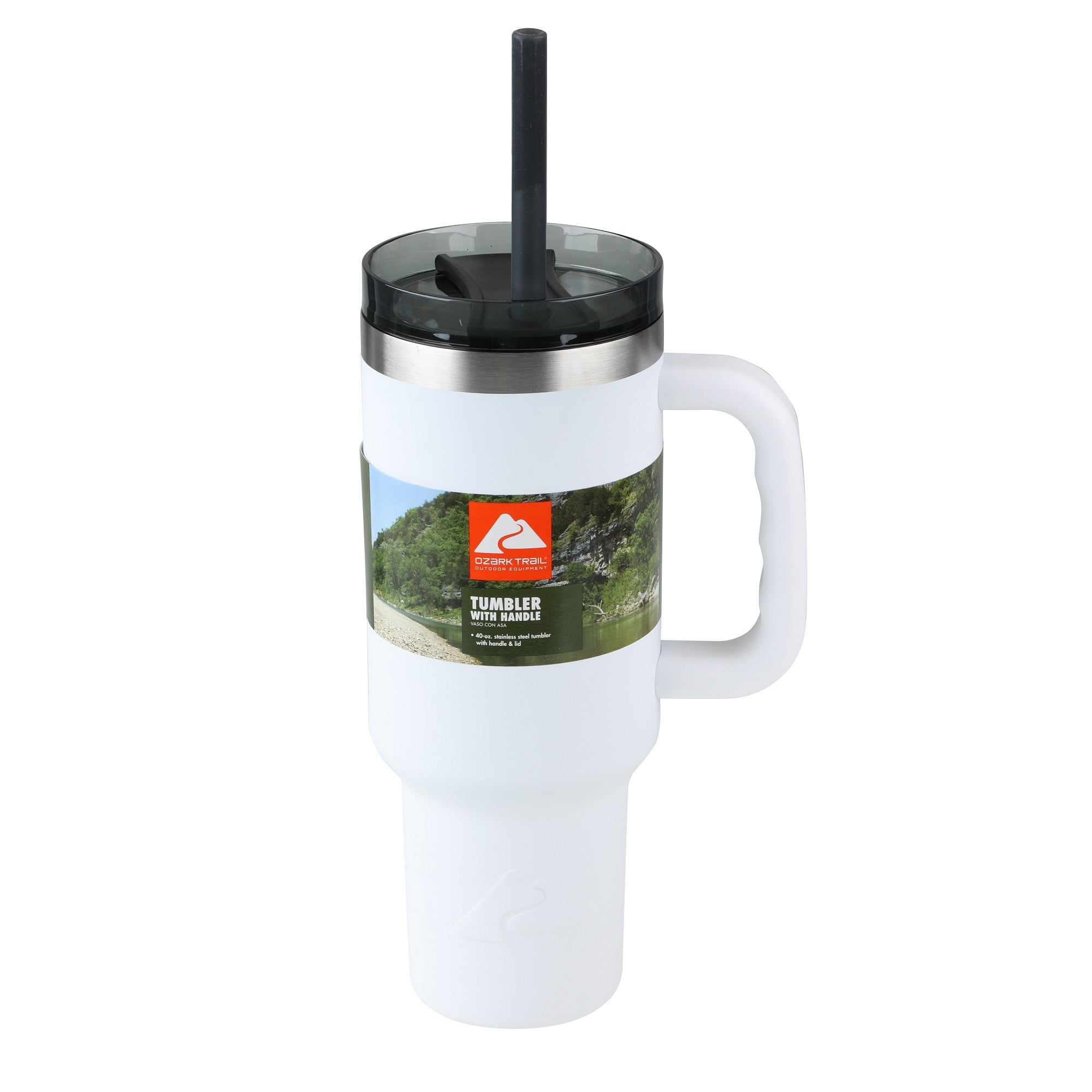 SHOP: Walmart Ozark Trail vacuum insulated tumbler, $14
---
2.
This tumbler with handle and straw from Amazon is made from the same stainless steel as the original Stanley cup. Available in 9 colours to choose from, this is the perfect Stanley cup dupe for everyday life.
---
3.
SHOP: Temu straw vacuum tumbler cup, $8
---
4.
YETI, another reputable online retailer for outdoor products, who offer worldwide shipping have an incredible range of stainless steel mugs made with the same insulation as Stanley.
Available in 25oz and 35oz, browse YETI's range here.
SHOP: YETI Rambler stainless steel insulated straw mug, $38
---
5.
SHOP: SHEIN Stainless Steel Vacuum Insulated Bottle, $17