So we have scoured the internet to bring you the best Mugler pants dupe from $20 on the high street. Keep reading to find out more.
Ah, Mugler – the fashion brand that's as fierce and unforgettable as a first kiss. Known for its daring designs and out-of-this-world fragrances, Mugler has been pushing the boundaries of fashion since the 1970s.
Specifically, the Mugler panelled trousers, which have taken the internet by a storm.
Mugler panelled pants, where do I begin?
These are not your average trousers – they're the kind of pants that make you feel like a superhero with legs for days.
Crafted from the finest materials and designed with a fierce attention to detail, Mugler pants are the perfect mix of edgy and elegant. They're the kind of pants that say "I'm here to slay, but also look fabulous doing it."
Whether you're rocking the signature high-waisted silhouette or a daring, skin-tight fit, Mugler pants will hug your curves in all the right places and make you feel like a million bucks. And with the brand's unique approach to texture and pattern, you can be sure that no two pairs of Mugler pants are exactly alike.
So if you're ready to unleash your inner fashion warrior and turn heads with your killer style, slip into a pair of Mugler pants and get ready to take on the world (or at least your next big event). Just be prepared for all the compliments and jealous stares that are sure to come your way.
Who Wears Mugler Pants?
It is without a doubt Mugler is loved by many, from celebrities, to A listers, even fashion influencers, thanks to the brand's reputation for bold, statement-making fashion. Cardi B, Kim & Khloe Kardashian are a few celebrities who have been spotted in iconic Mugler panelled jeans.
It is also important to mention that the Mugler Pants have been spotted on Bella Hadid on the runway of Mugler 2019, pictured below. Although, needless to say, these Mugler panelled pants retail for £550 on Farfetch, which might be out of budget for some. Thankfully, we have found some of the best Mugler pants dupe for you which look identical to the real thing.
These Mugler dupes have the identical design to Mugler, including the two tone skinny jeans style. From a mile away, anyone would instantly spot these pants and think you are wearing Mugler. But you've just spent $21 instead of $550, ready to save your money?
Let's dive into these Mugler pants dupes 👇
Mugler Pants Dupe
1.
These are a bestselling Mugler panelled pants dupe we found from Aliexpress. Over 120+ orders and 5 stars feedback. I just picked one up for myself!
Select 'light blue' for this style
---
2.
We are also loving this style with elongated leg. Over 111+ orders and 5 stars feedback.
Select 'blue black' for this style.
---
3.
Select 'blue' for this style
---
4.
---
5.
---
6.
---
7.
---
8.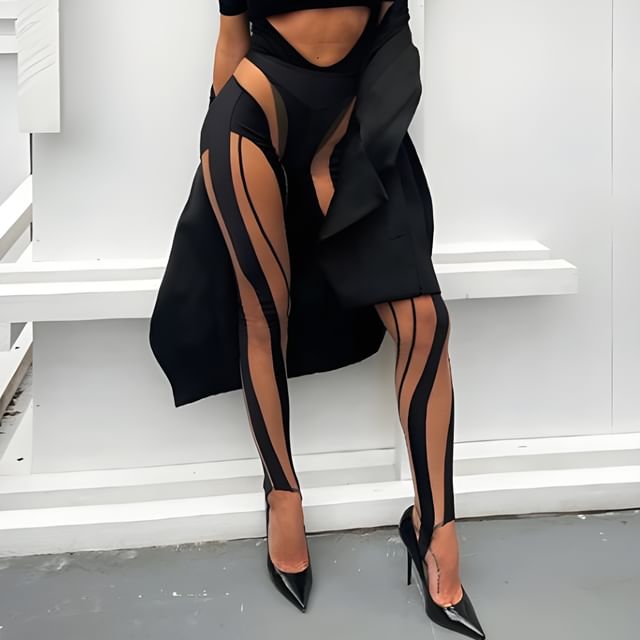 We are absolutely loving these Mugler leggings dupe from YesStyle! Selling fast asf!
---
9.
Channel your inner sporty spice in these graphic blue leggings from EGO.
---
More From The Best Dupes