So, we have scoured the internet to bring you the best Van Cleef bracelet dupe alternatives on the high street for a fraction of the price. Keep reading to find out more.
An iconic symbol of timeless elegance, the Van Cleef bracelet is coveted worldwide for its unrivaled artistry and enchanting beauty.
Of all the stunning offerings from this legendary jewelry house, the Vintage Alhambra bracelet stands out as a quintessential symbol of the brand's rich heritage and exquisite craftsmanship.
But what exactly makes the Van Cleef Vintage Alhambra bracelet so popular, how much is it, and most importantly, where can you find Van Cleef bracelet dupe alternatives? Let's dive in.
Why Is Van Cleef So Special?
Van Cleef & Arpels was established in 1896 in the heart of Paris. The Van Cleef bracelet was an integral part of the brand's offering from the outset, immediately capturing attention for its distinctive style and exceptional quality.
It has become increasingly popular, and has been spotted on the likes of A List celebrities like Kate Middleton, Mariah Carey, Sofia Richie, to even Instagram influencers and many TikTok fashionistas.
It oozes the perfect amount of feminine sophistication and can be worn on many occasions, from casual looks, to dinner outfits.
Through years of innovation and artistic evolution, the Van Cleef bracelet has solidified its reputation as an emblem of luxury and elegance.
What Is The Most Popular Van Cleef Jewellery?
One of the most popular iterations of the Van Cleef bracelet is the Vintage Alhambra bracelet.
The Vintage Alhambra bracelet is a stunning piece that takes its design cues from the Alhambra palace in Spain, a masterpiece of Moorish architecture. With its intricate design and ethereal beauty, it is no surprise that this bracelet is a favorite among celebrities and jewelry enthusiasts alike.
Watch The Van Cleef Bracelet Being Unboxed 📦
Why Is The Van Cleef Bracelet So Popular?
The secret to the popularity of the Vintage Alhambra Van Cleef bracelet lies in its unique combination of timeless elegance and modern sensibility. Each piece is painstakingly crafted, bearing the mark of the artisan's deft hand.
The bracelet's four-leaf clover motif, which symbolizes luck, is adorned with precious gems that radiate a mesmerizing allure. Moreover, its versatile design allows it to complement a range of styles, making it a staple accessory for various occasions.
How Much Is Van Cleef Bracelet?
As of June 2023, Vintage Alhambra Van Cleef bracelet retails for $4,000 for the 5 motif gold bracelet. It's essential to consider the craftsmanship, materials, and brand heritage that contribute to its value.
But stick around for the Van Cleef bracelet dupe we have picked for you below! 👇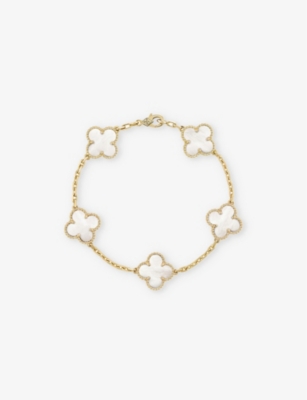 While the cost may seem steep, owning a Vintage Alhambra Van Cleef bracelet is akin to holding a piece of art that has been meticulously crafted by skilled artisans. Furthermore, Van Cleef & Arpels is a globally recognized brand known for its timeless elegance, making the investment worth every penny for those who appreciate fine jewelry.
Where To Buy Van Cleef Dupes?
For all the Van Cleef dupes, including Van Cleef ring dupe, Van Cleef bracelet dupe and Van Cleef necklace, we have found all the affordable dupes and lookalikes for a fraction of the price.
If you have the funds to splurge on the Van Cleef vintage Alhambra bracelet, it would set you aback over $4,000. However, if you would like to achieve the same look for a fraction of the price, here are the best Van Cleef bracelet dupe we have picked out for you.
Van Cleef Bracelet Dupe
1.
No. 1 Bestseller Van Cleef bracelet dupe has over 4,900+ orders via dhgate.com, $25
Excellent quality. Comes with the VCA hallmark. "Absolutely perfect, I would buy it again" says one of the customer who gave this bracelet 5 stars feedback.
2.
Set of high quality VCA bracelet & necklace, comes with the VCA box and hallmark, via dhgate.com, $68
I personally purchased this myself & I can attest for the quality. A set of Van Cleef necklace & bracelet. Came in a VCA box. The length of the necklace is 16 inches so it will fit a smaller neck.
3.
This is a 2nd Bestseller Van Cleef bracelet dupe on DHGate via dhgate.com, $25
With over 280+ orders, this is a very high quality bracelet dupe. Comes with the VCA hallmark and available in various colours.
4.
This silver Alhambra bracelet dupe is another bestseller on DHGate. Comes with VCA hallmark & logo. via dhgate.com, $19
5.
Add a pop of colour to your wrist this season with this red bracelet. via dhgate.com, $25
High Street Van Cleef Bracelet Dupe
1.
This has become a global bestseller from EGO. Available in over 10 colours.
2.
Also available in this versatile gold option.
3.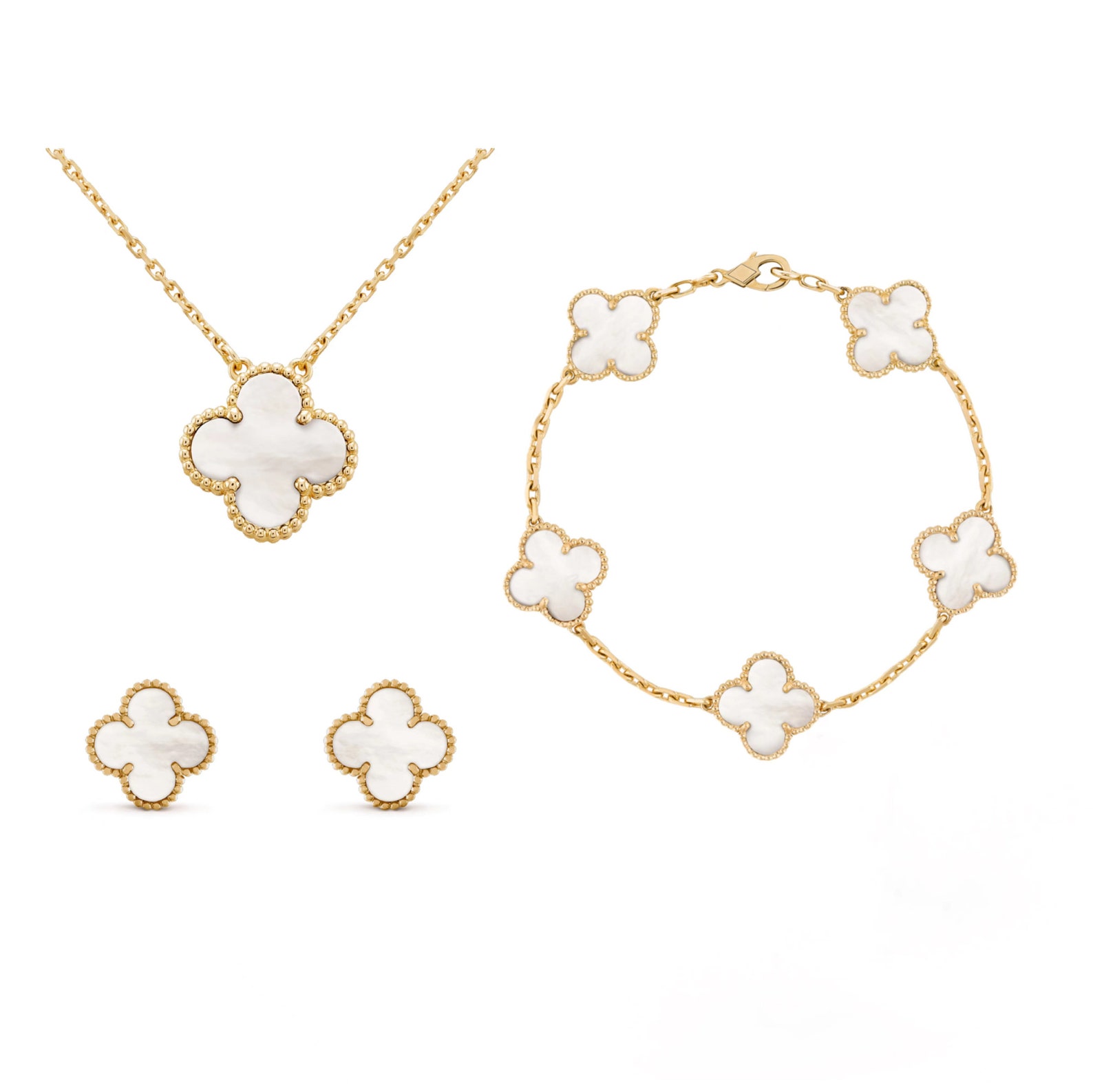 This set of earring, bracelet and necklace can be purchased together or separately on ETSY. Has 4 out of 5 feedback,
4.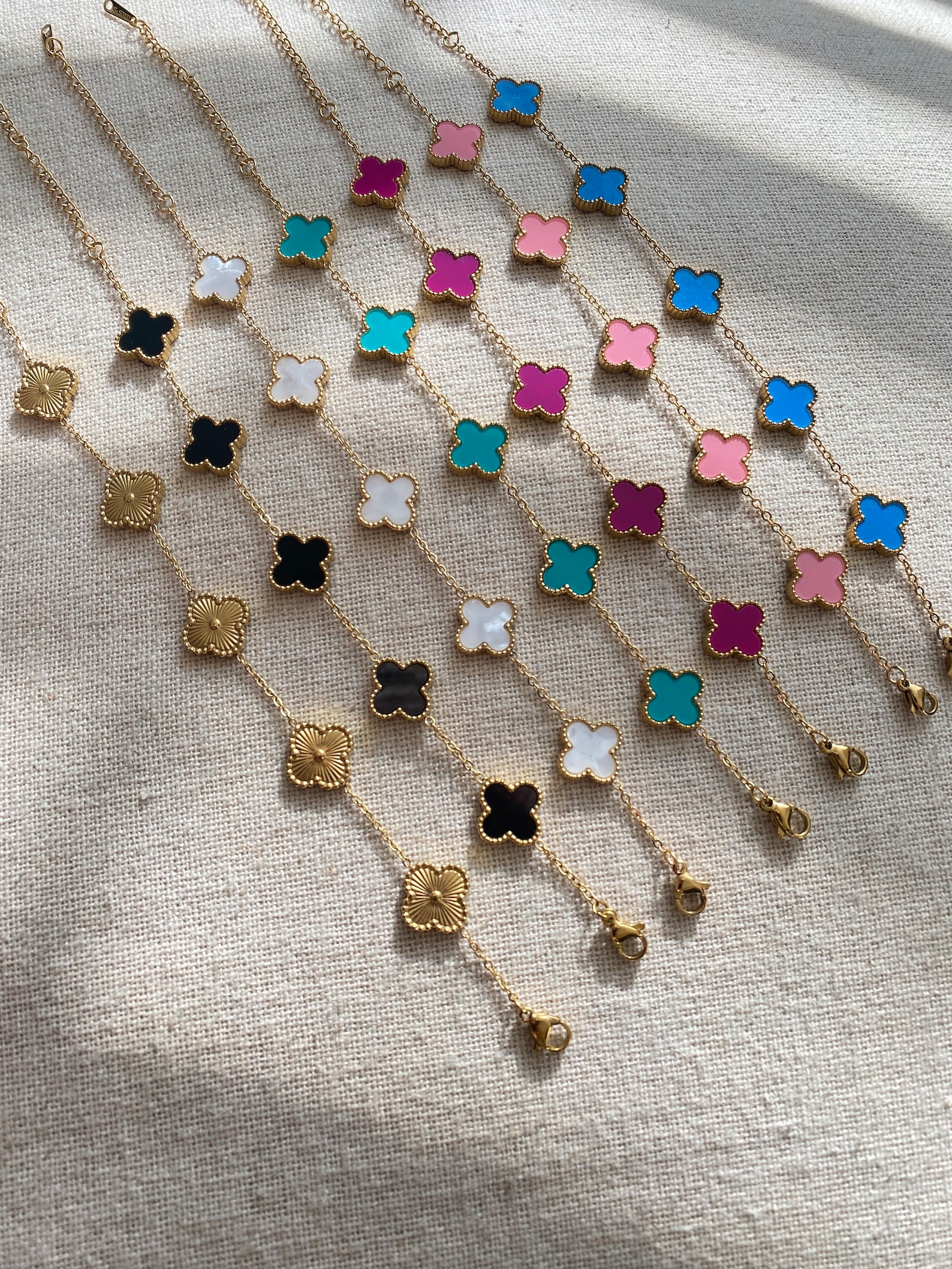 Name a perfect Van Cleef bracelet dupe than this. Available in separate colours which can also be purchased together. Over 300+ positive feedback.
5.
This is the most affordable Van Cleef bracelet dupe we could find if you're on the ultimate budget from SHEIN.
6.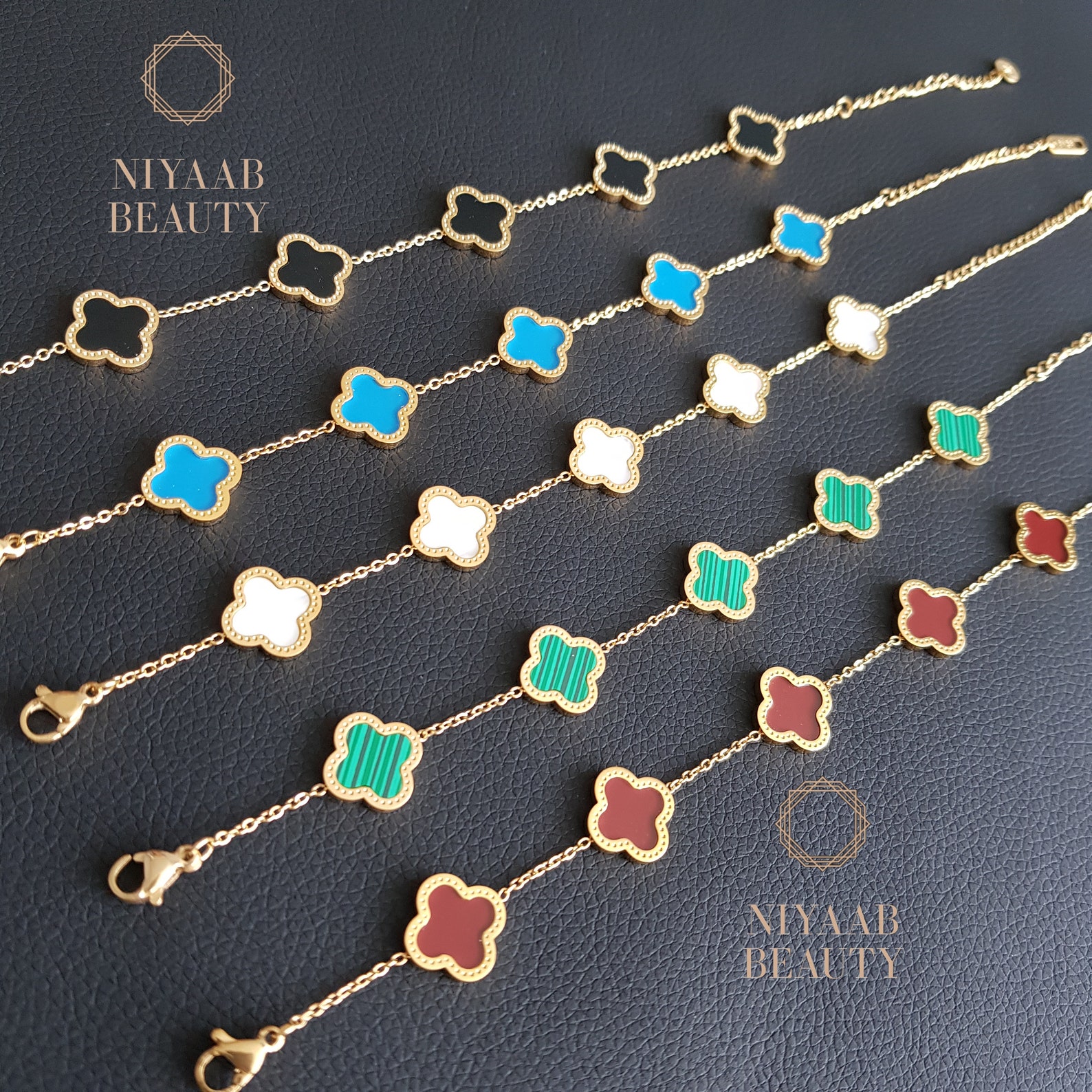 We are also loving these classic bracelets that are the perfect Van Cleef lookalike bracelets.
7.
This titanium steel bracelet does not tarnish and is very durable. Over 100+ purchased.
8.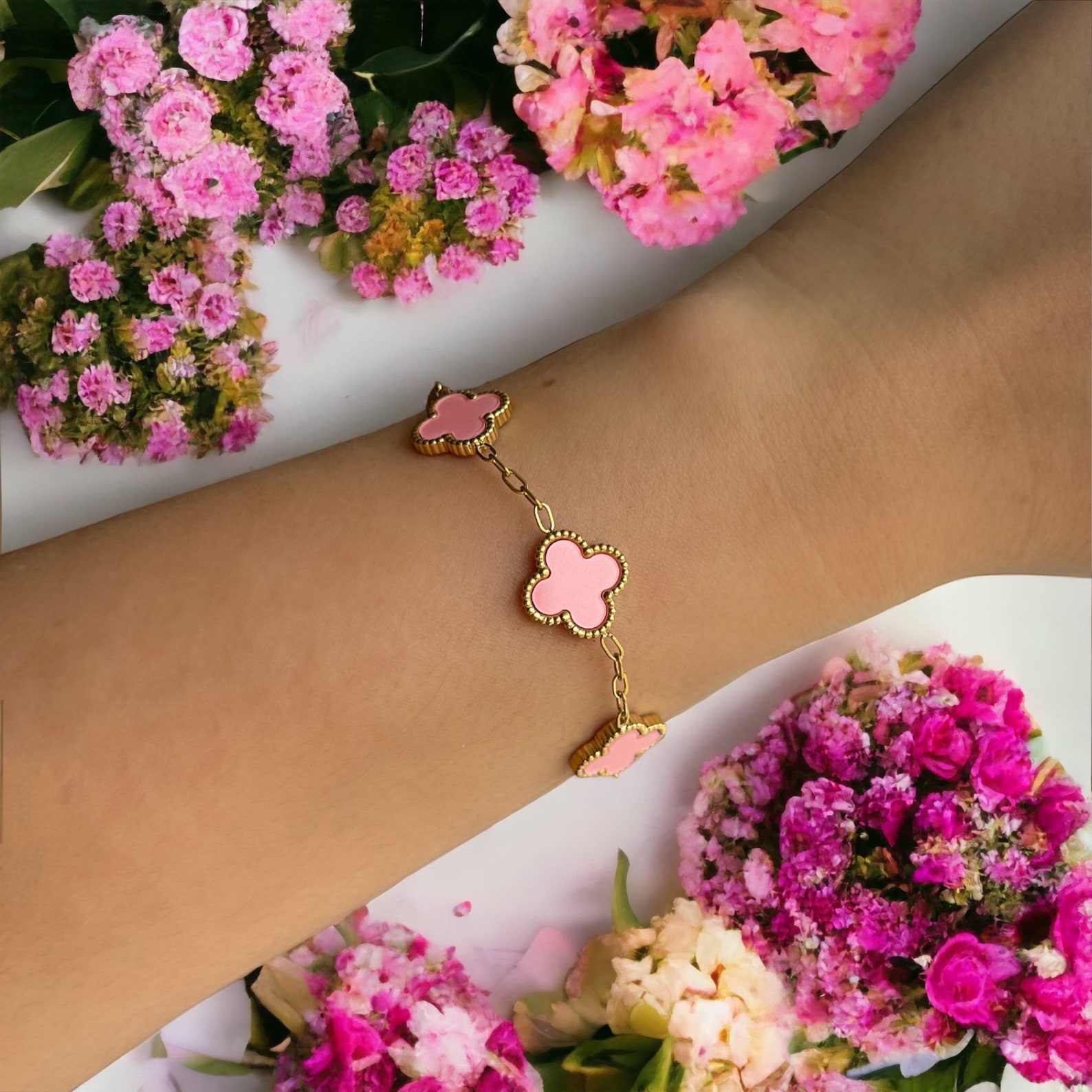 This pink Van Cleef inspired bracelet oozes femininity and grace. Selling quick. Only a few left.
9.
We are absolutely loving this versatile Van Cleef bracelet alternative from SHEIN.
1 Motif Van Cleef Bracelet Dupe
10.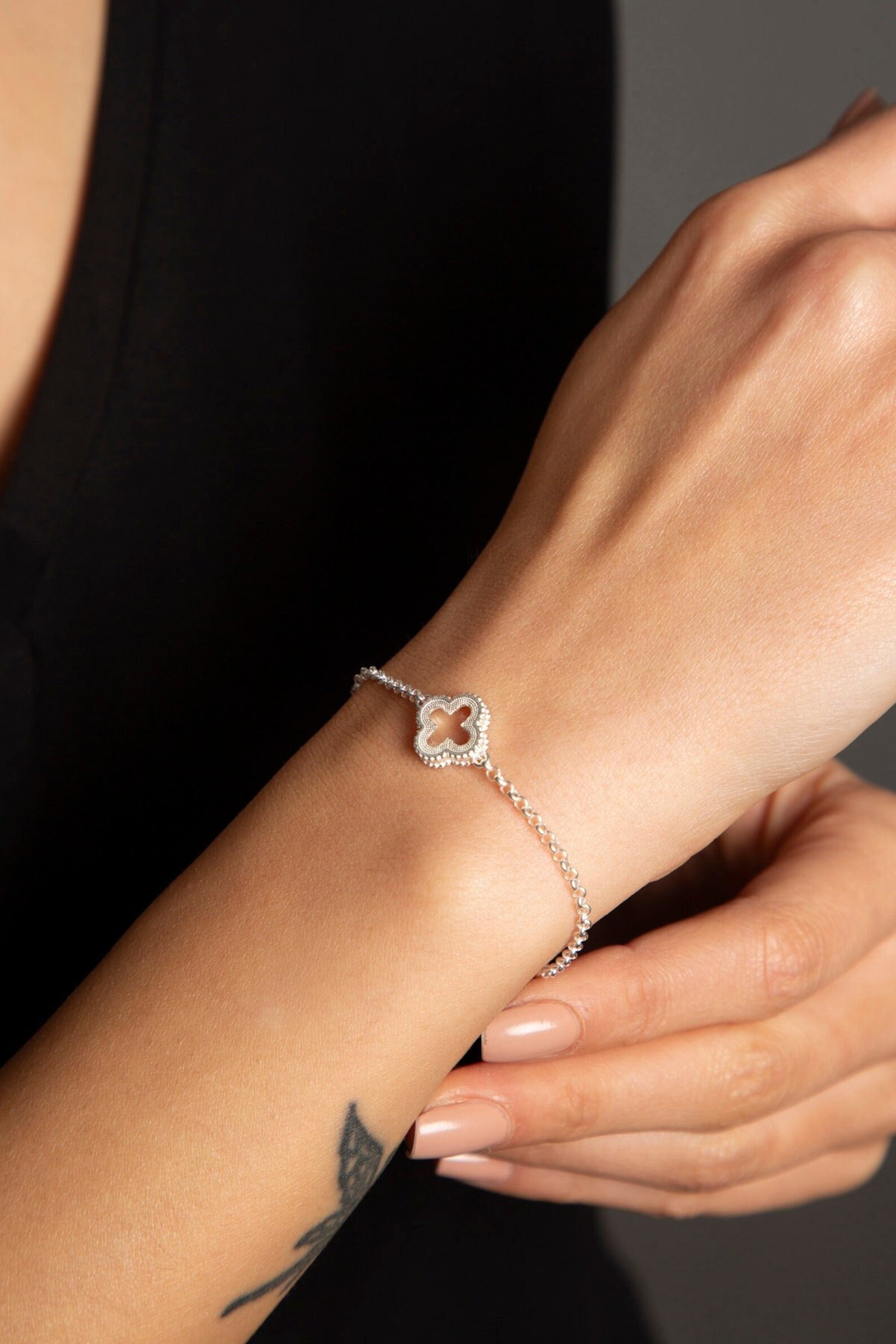 This high quality 1 motif rhinestone bracelet from ETSY is another bestseller, which is the perfect Van Cleef dupe.