So we have scoured the internet to bring you the best Chanel slingback dupe on the high street market from just $18. Keep reading to find out more.
Year after year, the Chanel Slingbacks continue to make their seasonal debut into the fashion world due to how irrevocably timeless they are.
Featuring the timeless toe cap, classic design of the slingback with short block heels, the Chanel Slingbacks are instantly recognisable from a mile away.
Designed by Coco Chanel herself in 1957, she created the two-tone slingback shoe in beige and black. The selling point of the Chanel Slingbacks in the word's of Coco Chanel was that she wanted a comfortable shoe that women could feel confident in. The reason behind the classic beige and black colour was that the beige lengthened the leg while the black shortened the foot. Genius tip if you ask me.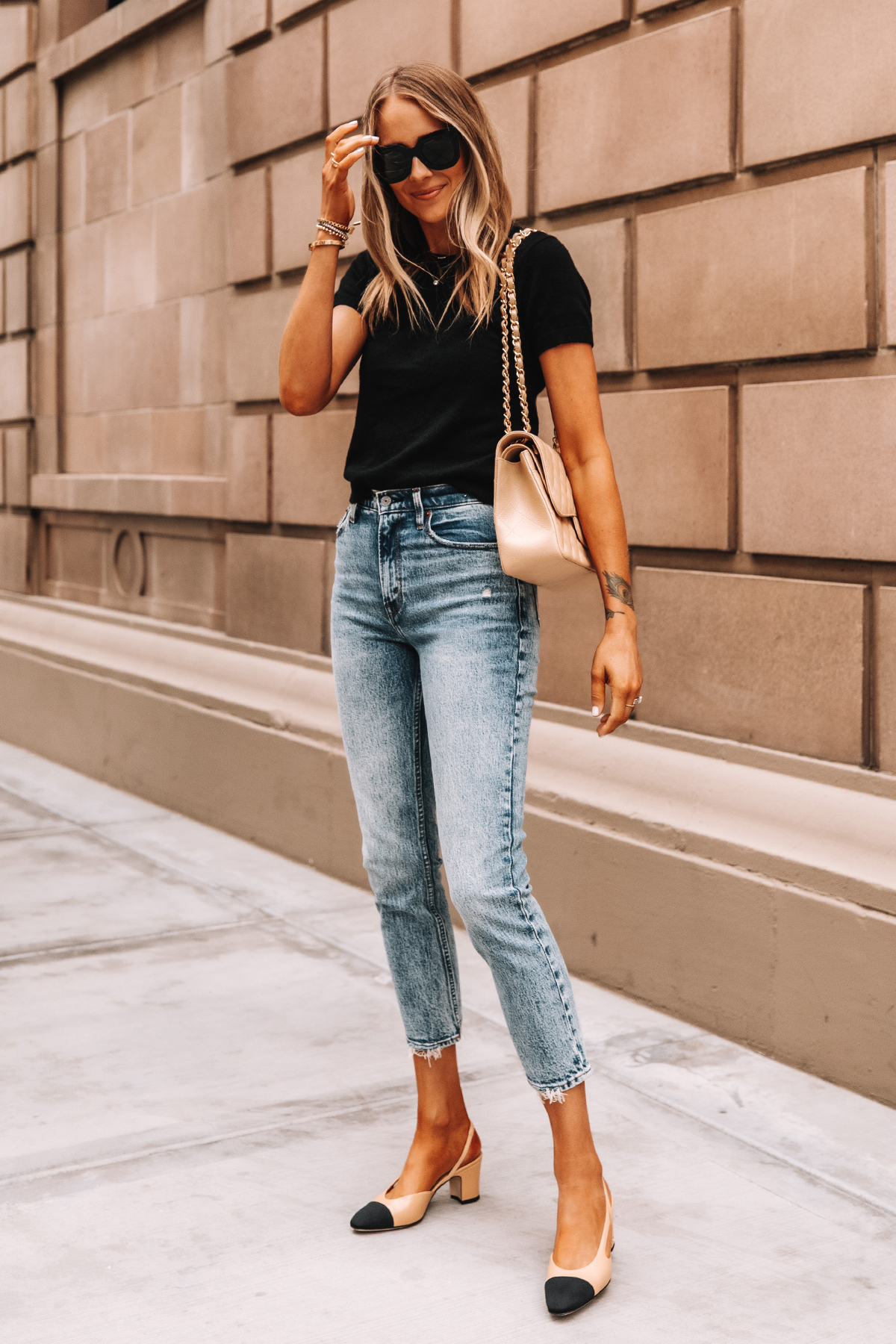 Pair your Chanel Slingback dupe with our Chanel classic flap dupe from just $40.
It is without a doubt that the Chanel Slingbacks have been spotted on the likes of A List celebrities, to name a few, Lily Rose Depp, Alexa Chung, to even influencers like Chiara Ferragni & Yoyo Kulala. The Chanel Slingback heels are loved by many and it is not hard to see why!
---
---
However, due to how timeless these shoes are (and Chanel's crazy price increases), it's safe to say they will return season after season. As of 2023, the Chanel Slingbacks retail for £870. However, we know many of our readers love the Chanel Slingbacks but might not want to splurge so much on a shoe.
Thankfully, we have found the best Chanel Slingback heels dupe on the high street market that look exactly like the original.
We found, bought, tried and tested some of these Chanel Slingback dupes and did extensive research to make sure they're high quality and also had positive reviews from customers – and boy, will you be blown away by these incredible Chanel Slingback alternatives we have found for you today.
Ready to dive into the Chanel Slingback dupe?
Let's dive in! 👡
Shop Chanel Slingback Dupe
1.
Best Chanel slingback dupe overall from the high street, made from real leather,

via $99 on marcfisherfootwear.com.
Our jaws dropped at this high street dupe that looks exactly like the real deal. But stay tuned, there's more.
2.
If you're looking for something with the CC logo and made from real leather, this is the #1 bestseller on

DHGATE for $45
With over 1,000+ sold with 800+ positive feedback, it's safe to see why these are a bestseller on DHGate. PS, I ordered these and can vouch for the quality!
3.
3rd best Chanel slingback dupe overall on the high street are these elegant slingback by

River Island for just £33

.
I particularly love the white colour on these because they are also versatile and classy, and will go with any outfit – from jeans, to dresses to skirts!
4.
Also ranked on our 3rd best overall of the Chanel slingback dupe – these are made from very high quality leather, and have the same shape as real Chanel's.

Via $198 on tnuck.com
If you're looking for a sustainable pair of slingback that will last you for years to come, then you might want to splurge a little bit more on quality. We are obsessed with these!
5.
An absolute bestseller this season, this slingback is a cross between Chanel slingback and Chanel MaryJanes. Available in 4 colours

via Charles & Keith, $59
This slingback is selling out so fast! I particularly like the tweed version as your styling opportunities are endless!
6.
The most affordable Chanel slingback dupes on our list is this slingback from SHEIN, available in 2 colours,

via SHEIN for $20
If you're on the ultimate budget but this want to achieve the Chanel look, opt for this Chanel slingback lookalike from SHEIN!
7.
If you're looking for a Chanel slingback alternative with a low heel, this one is for you!

Via SHEIN for $16
We are also loving this pointy style from SHEIN which is very flattering; pair with jeans and a nice elegant top.